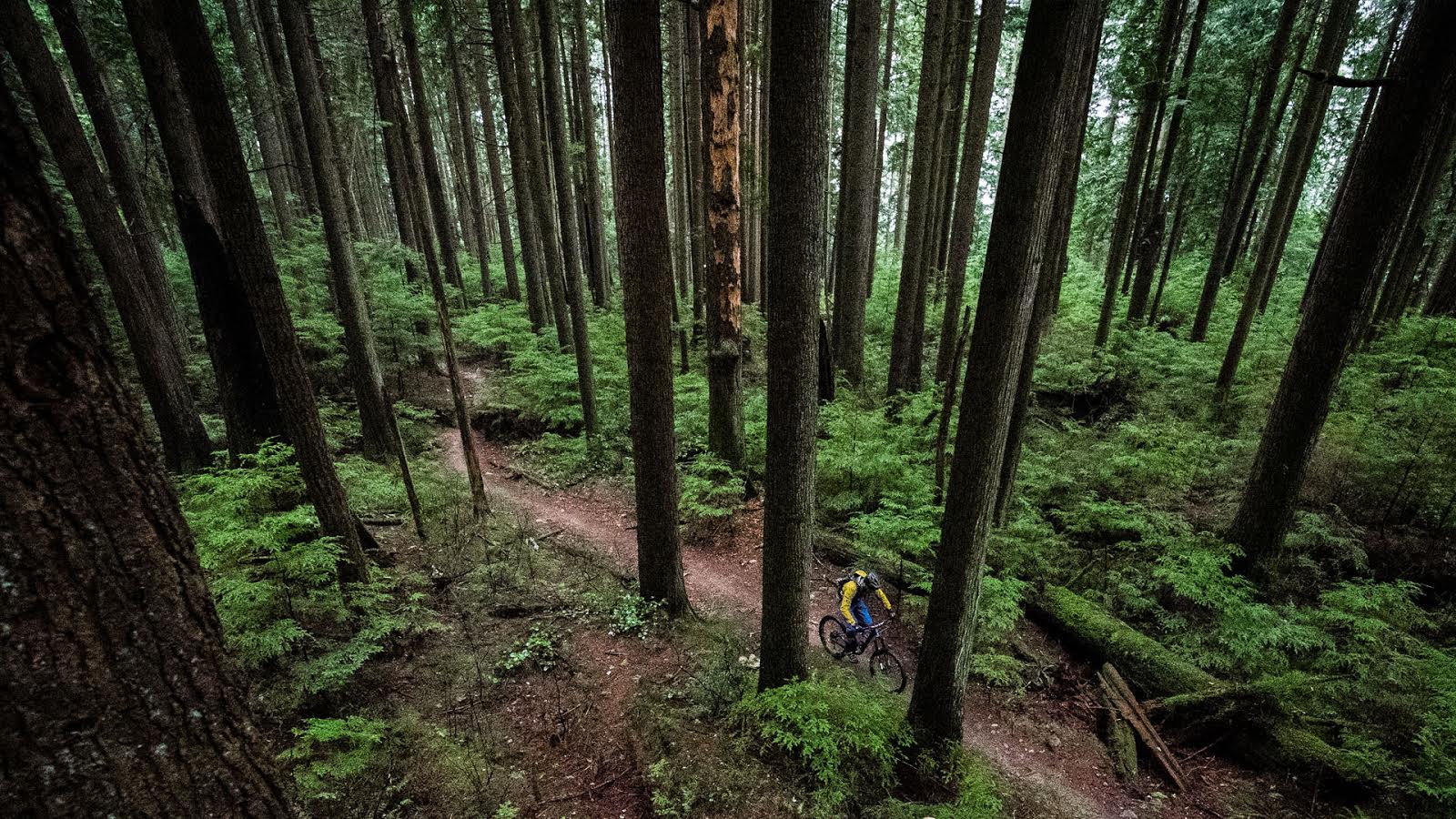 2013 Specialized Enduro S-Works
Fashion be damned. There are still those willing to stand up for the supremacy of a well-balanced 26-inch wheeled bike. Specialized released their Enduro 29er this year and attracted a lot of attention and praise (some of it reluctantly given by those who didn't think they'd like a long travel 29er and were surprised). And it is an excellent bike. Feat of engineering. Kickass monster-trucker. But a 29er will not be replacing a smaller wheeled whip for this guy in the 165mm travel category anytime soon. Specialized sent us an S-Works Enduro frame in the Spring and once the parts were all assembled, it was built up into the beauty you see below.
Full frontal and au naturel. The build includes a full XTR group, Enve AM rims laced to Chris King hubs, Marzocchi 55 Micro Switch TA up front, Cane Creek DB Air rear shock, Race Face SixC bar, Turbine stem and Half Nelson grips, Fox DOSS dropper post, Chromag Moon saddle and Specialized rubber.
We tried something a bit different from the normal Enduro spec and fit a XTR Trail group on there, and while a 2-ring setup sacrifices about a pound of weight and the simplicity of a single ring design, there is no mistaking the superior response and precision of Shimano shifting.
The stock graphics have thick masking and look super sharp. A little tagging never hurt.
The S-Works is a striking beast, with the trademark X wing design and bold red and black lines. At just under 29 lbs., this wasn't the lightest configuration the bike can take on, however it is hardly porky, either. Again, you could lose a pound by going to a single ring setup, and the fork is not the lightest choice but its performance never had me wishing for less weight up front.
Cane Creek's DB Air is the stock shock on the Enduro S-Works, whether sold as a complete bike or frameset. Recommended Cane Creek settings for the Enduro were close to ideal.
The front shock mount eyelet had a bit of play caused by a lack of thread depth. It was an easy fix with some selective spacer substitution, thanks to the wrenches at Obsession:bikes in North Van.
The Marz 55 Micro Switch STA needs a shorter name so we can spend more time talking about its performance. This is the second 55 in a row that I've run on a long term AM bike and they're both been reliable performers. Time will tell what happens to the company but the product is definitely strong.
We did not clean the bike up before shooting pics – everyone's seen all the parts when they're clean already anyway, so have some brake grime.
The Enve/King wheel set makes its presence known on every ride. If it isn't the angry bees gathering at the rear hub, the stiff rims make it hard to ever want to go back to a more flexy setup. Both are guaranteed for 5 years and although that still adds up to about $600/year, if you can afford them, they are worth it. We'll have more on this wheelset in the future.
Blue may not have been the intuitive choice for a red and black bike…
…but it goes nicely with the custom decals Enve made for the wheelset. It is somewhat close to NSMB blue and anyway, too much matchy match can be boring.
Morgan has already reviewed the Fox DOSS post, and it has performed similarly on the Enduro. Each frameset comes with a Specialized Command Post, by the way, however ours was missing a small piece and the build was imminent, so the DOSS was subbed in.
The Chromag Moon saddle took a few rides to break in, but the man-tingles disappeared and all is well. The DOSS works as advertised and does exhibit some play but has otherwise been excellent.
Everyone should be lucky enough to experience XTR shifting at some point. Early on, the derailleur got its signals crossed and ended up in the spokes. It was bent to hell but brought back to life and hasn't complained since. And the clutch? Never going back.
Two rings aren't dead quite yet. I've heard it argued that one shift on the front is similarly easy to 2-3 on the back and while I don't buy it, I can understand the perspective. One thing I do miss is a bash guard, though – it's unsettling to contact rock with that pricey chain and if you're in the granny ring and make contact, it's a frightening reminder of what life was like before we had bash guards. A life where your front teeth were on the protected list.
Race Face provides the cockpit bits: new SixC bar, Turbine stem, and Half Nelson grips, which have a raised section on the underside that took a bit of getting used to but provide a lot of extra grip.
The re-released Race Face SixC comes in a big boy width of 785mm. At first it felt destined to be cut down a bit but after two rides we were sold on the full pull, and it has become a consistent source of added confidence on steep sections where leverage and balance are key.
Shimano's XTR Trail brakes are simply great, with extremely positive engagement and response and enough modulation to keep you happy when a little finesse is needed.
Another standout in the XTR group are the brakes. Lots of power and a really positive feel and, in my opinion, the best levers in the biz.
Specialized Purgatory 2.3 Control Casing in the rear provides more bite than it would appear and rolls fast.
Specialized tires are currently being reviewed by some of our forum users so we won't comment too much just yet, but we ended up with a Butcher 2.3 Control on the front end and a Purgatory 2.3 Control on the back and they've handled themselves well in a variety of conditions and locations.
Specialized Butcher 2.3 Control up front. By the way a Specialized 2.3 is thick compared to most so these ended up having sufficient meat for most conditions.
A full review is pending.
---
What's the most drool-worthy part the build?