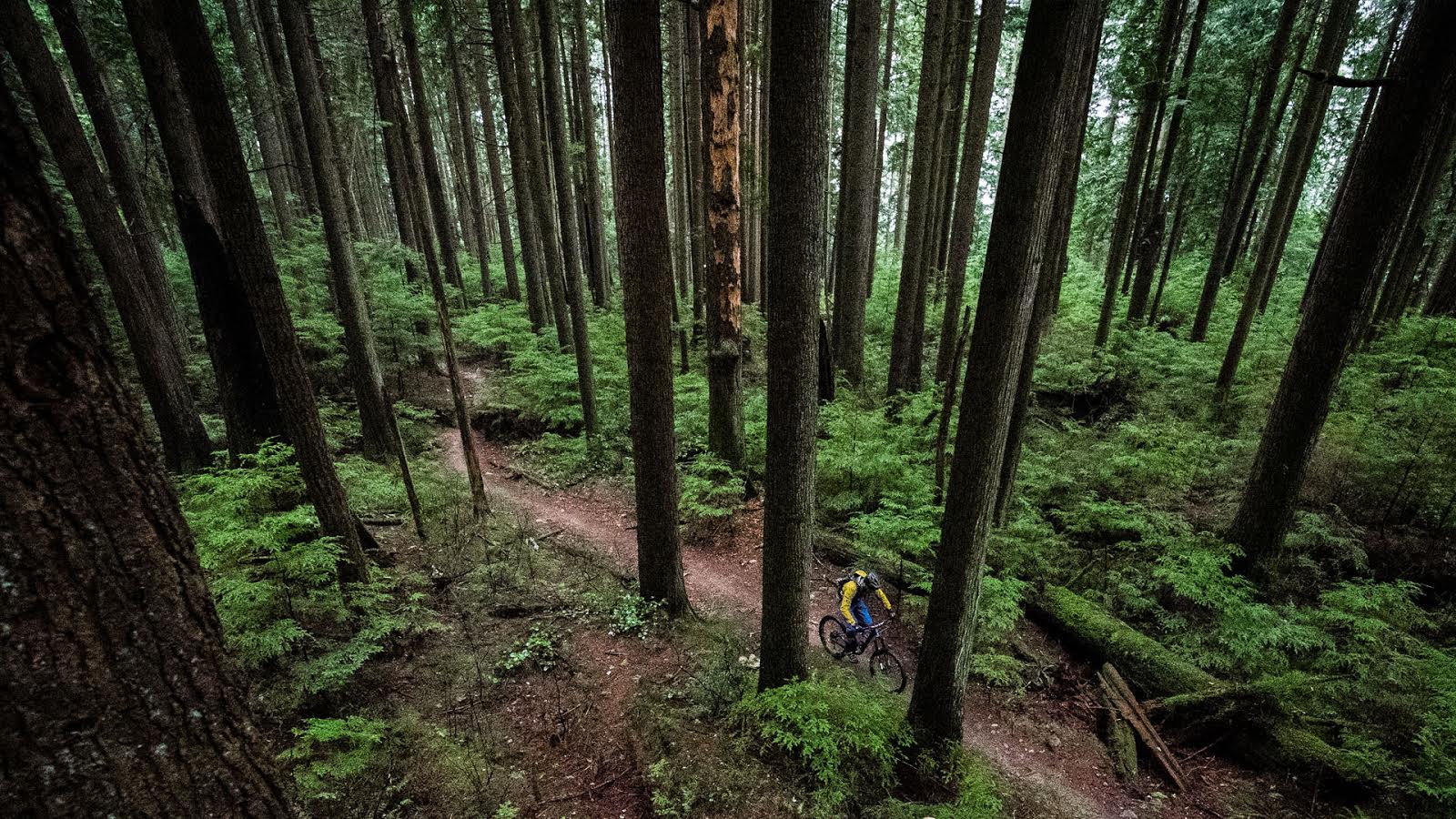 2013 Rocky Mountain Altitude 790 MSL: Reviewed
Funny that the rains have returned as I sit down to write this long term review. When last we talked it was the beginning of June, and Nelson was wet too. It ended up being a long, hot, and dry summer filled with many adventures in the saddle of the Rocky Mountain Altitude 790 MSL. We started things off in Hood River riding greasy singletrack and also ventured to the Okanagan in July to ride twisting, needle covered singletrack, with an early summer trip to Whistler to get a coastal riding fix.
Mostly though we found ourselves ripping around the steeps of Nelson BC where I spent the past year enjoying their particular brand of steep and deep, both the dirt and snow varieties. Things culminated with one of the rowdier bike roadtrips I've ever been on through the Selkirks and Kootenays (8 days and over 18,000m of descending), and a return to Whistler and competing in the Enduro World Series event during Crankworx. It all added up to a crazy summer of riding throughout the Pacific Northwest, to the tune of ~1200km and nearly 50,000m of climbing, and through it all I've really enjoyed my time on the Altitude.
As much as I'm tempted to dive right in and get to the meat of it all, I should probably take care of the formalities and cover off the spec before I get into the much more important and totally subjective part of the proceedings. As discussed in the preview review in June, this is a top of the line machine, and as such came decked with the cream of the crop component wise. The clean, straight carbon tubes, and smart, no-nonsense part choice strikes a classic pose and makes for a very attractive bike. In an era of overly swoopy tubes, it's refreshing to see a bike that doesn't assault your senses.
Drivetrain duties were handled by the proven SRAM XO 2×10. Totally solid and reliable, with consistent performance throughout the past 3 months. No dropped chains, crisp shifting, and good choice on gearing for the crankset (24×36). I make no bones about it, in this era of 1x hysteria, that I'm a fan of a granny gear, and as such, found the 2x setup versatile as it provides one with options other than brute force, or walking. I could list off a plethora of reasons why this is good, but I get it, personal preference and all that, so we'll leave that alone.
The whole cockpit was just smart choices across the board. The lock on grips were comfortable, though on hot sweaty days were not the best gloveless choice as they got slippery. While the XO brakes did burn through a full set of pads within a month and a half, the brakes themselves performed admirably on the steep, braking-heavy terrain in the Kootenays; swapping to semi-metallic pads greatly prolonged pad life and improved bite and decreased brake fade. The 60mm Race Face Turbine stem did its job and was the perfect length for a neutral fore aft balance.
The standout though for me was the SixC bar from Race Face. At 725mm wide some may consider it narrow, I thought it was a welcome change from the wide bars I normally run. There are still plenty of trails out there with narrow old school sections that prove difficult (painful) with wide bars, and I found I was able to just squeak through a lot more areas without hitting my bars, or my pinky fingers. With no noticeable flex, it felt very solid even under hard nose-heavy landings. Even though I've been skeptical of carbon bars in the past I didn't really think about that at all while on the bike as they gave me no reason to even think about them; they made me a convert… I think.
The Altitude rolled on DT Swiss wheels, which for the vast majority of the test period were bomber. Pushing hard on descents the wheels felt fairly solid and handled some pretty rough and tumble riding. I did break a spoke on the rear wheel on Stage 3 of the Crankworx Enduro and another while trying to true the wheel straight enough to continue, then I broke another one a few weeks ago too.
Broken spokes can be frustrating, and with a lower spoke count on wheels these days it did mean that in both instances it resulted in the tire hitting the chainstay. Combined with a bit more of a headache tracking down 650b/27.5 size spokes could make this a frustrating issue if you live in a place without readily available replacements or a shop with a spoke cutter. Luckily Rocky does apparently ship the bike with 6 extra spokes should you have any problems, a smart solution to a potential problem for riders.
The Fizik saddle was comfortable for me, and a light and minimalist choice. White maybe wasn't the best choice as it was stained brown within days after being subjected to wet muddy conditions. There was also some flaking of the material around the bottom edges of the seat, nothing major, but present none the less. The RockShox Reverb post proved moody over the course of the test. As mentioned in the preview, it required a plunger remote bleed right away, and that was required a few more times along the way.
Eventually it got stuck down, which was okay since it was in the middle of some big Kootenay shuttle descents, then it magically went back up and stayed there before the 35 km 7 Summits ride. A shop fix when I got back to Whistler had it working again, although that didn't last and is now stuck down again. Luckily I'm relatively short and could get away treating it like an old school post. Definitely not a deal breaker though, and par for the course with some dropper posts, my personal post on the other hand, also a Reverb, has been bomber. Win some lose some.
It's no secret that the 2013 Fox CTD offerings have been lacklustre. While they proved durable and reliable, the performance just wasn't there for aggressive riding. Much has been said elsewhere, and Fox has addressed many of the issues with an updated 2014 model. I can't really add much to the discussion at this point, other than mentioning that both the fork and rear shock were hyper sensitive to minor changes in air pressure. This caused the bike to feel either overly plush with noticeable fork dive easily blowing through the travel, or conversely, overly stiff and impossible to get into the final inch or so of travel. Eventually I started to run lower pressures overall, but used the CTD gadgetry a bit more strategically to try and tweak out a few improvements. If nothing else I learned to expect the fork dive and just got used to it.
While the Fox remote CTD lever for the rear shock also performed consistently throughout the test and worked as advertised with smooth, reliable performance, it did add to the cable clutter on the front end. Given my preference for running slightly less air pressure in the rear shock, though, I did start to use the remote more frequently between climbing and descending on the trail. If the suspension hadn't been so finicky, however, I'm not sure I'd prefer this to a simple switch on the shock body to simplify the cable set up. Personally I'd also have preferred a travel adjust fork to improve steep climbing while still maintaining the slack geometry for the descents. The straight-up seat angle though really did help in this regard and made for a comfortable climbing position even with the static height fork.
Unfortunately, it was the Schwalbe Nobby Nic tires that really ended up letting the bike down. As much as I don't want to dwell on the tires, it did get to the point where I almost didn't even want to ride the bike because they were just so unpredictable and lacking in traction. Yes this bike falls in the "Trail" category, and in the majority of places around North America this may be an alright tire. They are light, they are fast rolling, but conversely they do not have any useful side knobs, or sidewall support and they sent me to the ground at least half a dozen times when they just totally and unexpectedly lost support and traction when I needed it most, and yes you will get 5x more flats than normal. They seem to be a very conditions-specific tire, and I will say that on hardpack with a bit of moisture – say needly loam in the Okanagan – they were okay.
However on wet or dusty rock slabs, or hard chundery downhills, they were sketchy. Want to slow down in the steeps while it's loose and dry? Nope. Even hardpack with loose gravel on roads I'd spin out. I'm sure these are great tires somewhere, but that somewhere definitely wasn't where I was riding! Luckily Rocky was able to send some Continental Trail King 2.4s out and I must say it was a huge difference that totally saved the day, or in this case, my opinion of the Altitude. The Trail Kings provide a nice high volume tire, with some chunky side lugs for more aggressive cornering support. The tread pattern rolled fast for a beefy tire and has some paddle style treads that hooked up both climbing and found traction under breaking in steep, loose conditions. Definitely a marked improvement, and I can see why these tires were spec'd on the 2014 Rally Edition Altitude that was just released.
But enough about componentry – yes it impacts the overall enjoyment of the ride, but what about the ride? Yes, the ride, that subjective beast to wrestle into submission and try to put all those feelings into words. I guess I start at the beginning, which in Nelson, for a non-shuttler anyway, meant steep climbing. The first thing I noticed on this bike was how much it wanted to just motor uphill. The straight-up geometry helped keep weight on the front end to prevent wander, with just enough balance to keep the rear wheel weighted for lots of traction. Compared to my Giant Reign, it also meant almost never having to slide forward to the nose of the saddle, which was a welcome change. The fore/aft body position was pretty much as good as it's ever gotten for me on a bike. The smooth link suspension seemed to sit fairly high in the initial part of the travel, which meant it felt like any power input into the pedals was put straight into traction and going forward, this bike wants to climb fast, and if you're willing to put in the power it will reward that effort.
Even with the bike set in the slackest of Rocky's adjustable geometry settings it was a rocket-goat on the climbs. I found myself climbing steeper and more technical terrain than I had been able to previously, and I found myself feeling way fresher at the top too. The body position, suspension action, and yes, even the 27.5 wheels rolling through the roots and rocks a bit smoother, all added up to me starting to relish hard climbing and look at trails differently when it came to going up them. On aggressive technical climbs I found that whatever I put in, I got back out in spades. The quick handling went where you wanted in an instant making it easy to hit tricky lines. The only time I got a bit of front end wander was on the steepest of loose climbs or switchbacks, and mind you that was in the slackest setting. For a more XC locale, with a steeper HA or travel adjust fork, I think that problem would've all but disappeared.
Climbing like a mountain goat on EPO is awesome and everything, this is after all a trail bike, but what about when things go a bit more downhill? Well, in Nelson, there was certainly no shortage of down, in fact most things there go straight down. But with the advent of the modern "all-mountain" bike, and the influx of people who have young kids to teach to ride, they have started to build slightly less fall-line trails, and it was on those trails that this bike really shone. Agile and responsive, this is a playful bike that loved to be manualed and wheelied through dips and rollers. Bumps and humps along the way were easily turned into launchers for double ups and transfers. Unweighting it through rocky and chundery sections allowed it to float through some really rough terrain, and as with the climbing, a few pedal strokes here and there kept this bike motoring and it rolled through everything very fast. Frankly, it was downright giggle inducing. The Altitude sliced and diced through the corners, responding immediately to rider inputs and weight shifts, the agility and capability of this bike is quite noticeable.
That being said, in Nelson if you want diversity, that means eventually finding oneself at the top of steep and loose fall line trails. Classics like The Vein which require hard climbing to get to steep, loose descents. On paper, this bike wouldn't be the ideal choice, and at times it felt like I was on the verge of overstepping the boundaries of what this bike was designed to handle. Not to say it wasn't doable, but it was in these situations where the fork dive and original tires' lack of traction and confidence in being able to stay in control really made me think I'd found that upper limit. The tire change though was the answer I was looking for, and it really did allow this bike to be pushed harder into the realm of more downhill oriented trails. On the BC Manride we raced fading light down Martha Creek's massive downhill, hung on for dear life down the Frisby Ridge DH trail, and shredded huge vertical days on Idaho Peak in New Denver, Gold Creek, Cherry Tops, and Shannon Pass in Nelson, The Monster in Kaslo, and numerous laps at Retallack Lodge.
It was on these rides that the bike just really came into its own and really exceeded my expectations. Most people wouldn't think a trail bike would be the right call for 5000 foot descents or repeated downhill shuttles, and I'd usually be inclined to agree with them, but in the end the Altitude proved extremely capable, regardless of the terrain. What it lacked in straight line plow-ability, it more than made up for with a package that allows a skilled bike handler to really exploit the traits of the bike and make for a ride that was downright fun, even when hanging on for dear life on gnarly downhill trails. The carbon chassis proved to be more than stiff enough to handle hard charging, and I was able to push the bike very hard in corners at speed and there was no noticeable flex in the frame.
The final test though was putting the Altitude through the ringer at the Crankworx EWS event. After a season in the Kootenays I was a bit nervous to come back into the bubble and race against guys who'd been riding hard here all year. Luckily the trails used for the event happen to be some of my favourites, and going with the flow and having fun proved to be a successful formula. The bike held up to the rigors of a huge day of very diverse terrain, fast rough descents, punctuated by steep lung searing climbs. Transitions that pushed the limits of our fitness, and even more steep, technical descending. The final stage of course being a lap from the peak to the base of the mountain in Whistler Village. While I did break a couple of spokes on the rear wheel, the bike held up amazingly and helped me achieve an unsuspected podium.
Through a summer of extensive, diverse, and hard riding, I've been extremely impressed with how the Altitude has held up. The frame shows few signs of how much the bike has actually been ridden and the finish has held up better than most would expect. The fact Rocky uses bushings can be a negative for some people, but overall I'd say they performed as well as I expected them to. During some of the long dry periods they did develop a bit of an annoying squeak that seemed to persist, but just as quickly it would disappear. The smooth-link platform itself seemed to provide a fairly decent balance between climbing efficiency and descending smoothness.
Although in the slacker setting the action was less progressive than I would've preferred it still performed adequately. The Ride9 flip chip system is something I'd consider fairly substantial and valuable. Its ability to make one bike easily adjustable to suit a wide range of users and/or conditions and locations is a huge advantage to the consumer. It's easy enough to change if you venture away from your typical riding area on a road trip, and even though I fell into the "set it and forget it" camp, it would be simple enough to even change on a ride to ride basis, or even during a ride, if one so desired.
More than anything though, this was a bike that I looked forward to riding, a bike that I had a lot of fun on, on a lot of different trail types. From mellow flow to fast and technical, face on stem climbing to ass on tire descending, this bike really did do it all, and it helped me do it with a smile on my face.

If you're bored and have 12 or so minutes to kill, here's a snapshot of what it's like riding in Nelson, if nothing else you get to listen to some sweet Zeppelin too. These trails are officially maintained by the Nelson Cycling Club, whom do amazing work in the vicinity, be sure to hit up one of the great bike shops there and pick up a map and help support a great organization!
---
Long term reviews don't always come with huge elevation counts and placings in top level Enduro events… Todd put this one through the wringer! Next up: Rally Edition…