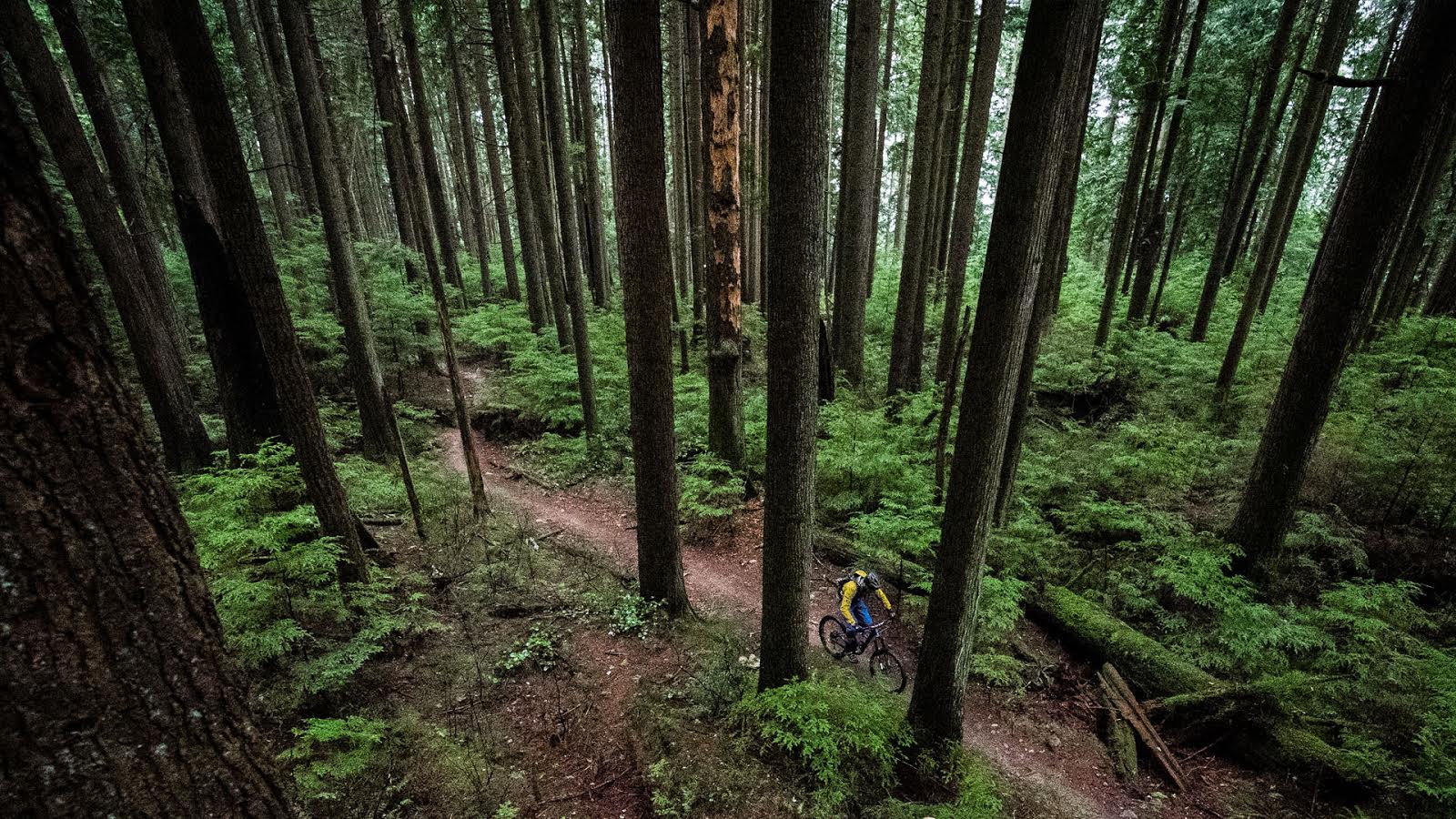 2012 Devinci Dixon: Long Term Review
Devinci made waves earlier this year, announcing three new carbon bikes for 2013. They are clearly confident in their Dave Weagle designed, axle-concentric Split Pivot rear end which is seen on the Wilson DH racer, the Atlas mid-travel 29er, and the bike in this test, the Dixon. I have spent a lot of time in the saddle with the 2012 Dixon SL, from long pedally XC rides to extended descents that are traditionally accessed by a shuttle. Pedaling is most definitely a strong point of the 145mm travel Dixon, but once you spend some time with it, you learn that it can also get rowdy going down.
This article will focus on a season of ride impressions; for the rundown of the 2012 Devinci Dixon SL's specs and my initial impressions, with detailed product photos, check out my First Date article. I predicted a few minor spec changes in that article, and did follow through with them. Here on the Shore we tend to prefer the burlier side of component spec, and my own riding style lends itself to exploiting that.
While the 2012 Dixon SL's spec is admittedly quite nice, there are a few places where improvements can be made. The good news is, for 2013, Devinci is producing an RX model Dixon which addresses all of my concerns about this particular bike's spec – I'll get into that below, but for now let's get into my experience with the Dixon's suspension platform.
If you like to wrap your head around the relationship between geometry numbers and on-trail feel, the Split Pivot Dixon presents a bit of a challenge. Yes, the static BB is higher than some other bikes in the category, but when you learn to push the bike, it doesn't necessarily feel like it. The Dixon fits into the long-travel Trail category; with 145mm of Split Pivot travel out back, this overgrown XC racer pedals efficiently and likes to be thrashed on the descents.
You won't believe you're on a 145mm rear end when pedaling the Dixon. This is an intentional trait in DW's Split Pivot. The built-in platform at the top end of the travel keeps efficiency high and the relatively high BB lends itself to climbing prowess. Bottom line, the Dixon climbs like a goat, whether on a fire road or a techy grunt.
After a few weeks away from the Dixon, pedaling other bikes and resetting my personal standard for climbing, I recently jumped back on the Split Pivot and was blown away. The Dixon rides high when it's not being pushed, which results in excellent technical climbing capability. I regularly surprise myself at cleaning the grunt climbs on extended Shore XC loops.
Once you point the Dixon downhill, though, there is a bit of a learning curve. If you don't go fast enough, the rear end seems to get hung up through chunky sections. The key to getting through this is speed, and the Split Pivot literally comes to life when pushed hard. That high-riding built in pedaling platform gives way to a rear suspension that settles nicely into its travel at speed, negating anything you might have thought about the static BB height.
This seemingly bottomless travel range is a major highlight of the bike, but it comes at a cost: under a rider weighing in at 200 lb with gear, the Fox 32 150 is stretched beyond its limits. This is less a criticism of the Dixon itself as much as the overgrown XC forks that are still making their way on to today's oh-so-capable long-travel trail bikes.
Well, good news. Devinci will be producing a new model of Dixon for 2013. The Dixon RX will feature a Fox 34 160 and some other shralp-friendly factory mods like a wider bar, shorter stem, and Reverb post… it's as if my comments through the test period made their way directly to the product manager.
From my experience on the Dixon, the 34 160 seems like a logical next step for the heavier rider. I've spent good amount of time on these forks this year and feel the 34 is a solid choice for an OEM. As a testament to the Dixon's response to a longer fork, real Canadian hero Steve Smith won the Air DH at Crankworx on his Dixon with a 170mm RockShox Lyrik.
While the Fox 32 150 is undergunned for aggressive riders who are heavier, I can also say that I've ridden this bike hard and the crown-stanchion assembly is still silent. If you live in an area where the average bike doesn't have a heavier fork, the SL spec might be just right.
Spec-wise the Dixon SL is the top end model. At a retail of $5799 CDN, you get a Canadian built frame with a lifetime warranty and a well-chosen group. Easton's Haven wheels are stiff and light, and I did not run into any problems with the freehub or bearings during the test period. The Avid Elixir 9 brakes worked reliably with no signs of fade or air infiltrating the system. The XO drive was flawless, and is updated to a Type 2 clutched derailleur and 36 tooth cassette for 2013.
I stated in my previous article on this bike that Kenda Nevegals were not my choice of tire. The 2.35″ single ply versions on the Dixon solidified that thought. You choose high pressure and squirrelly handling, or risk pinch flats. Let's just say I chose pinch flats, until I smartened up and set up the UST Havens tubeless with a different tire. The rims set up tubeless without issue, and Devinci even provided valve stems with the bike. For 2013 we see Schwalbe's Hans Dampf spec'd, which should allow tubeless setup right out of the box.
It does stand out that the 2012 Dixon SL does not come with a dropper post from the factory, but to that end, it also doesn't come with a cheap dropper post that you're going to end up replacing anyway. Again, for 2013 this has been addressed, and both the SL and RX models come with a RockShox Reverb post.
My conclusions on the Dixon's suspension platform are that the rear end demands to be pushed, and for a heavier rider, the Fox 32 does not keep up with the rear end's capability. With some spec updates for 2013, Dixon RX represents exactly what changes I personally feel this test bike needs for my terrain and riding style. Kudos to Devinci for being yet another company to produce a model with a more Shore-friendly spec. If you are a lighter rider or your local terrain lends itself to the lightweight 150mm forks, the SL might be just the ticket.
The Dixon was my go-to trail bike for most of 2012. As an all day trail bike, for those 35 km epics, or to keep up with a fast group, the Dixon will not hold you back. For my riding style, the 2013 Dixon RX would be the perfect evolution of a great platform.
---
Are you fixin' for a Dixon? Carbon's looking pretty shiny right about now…