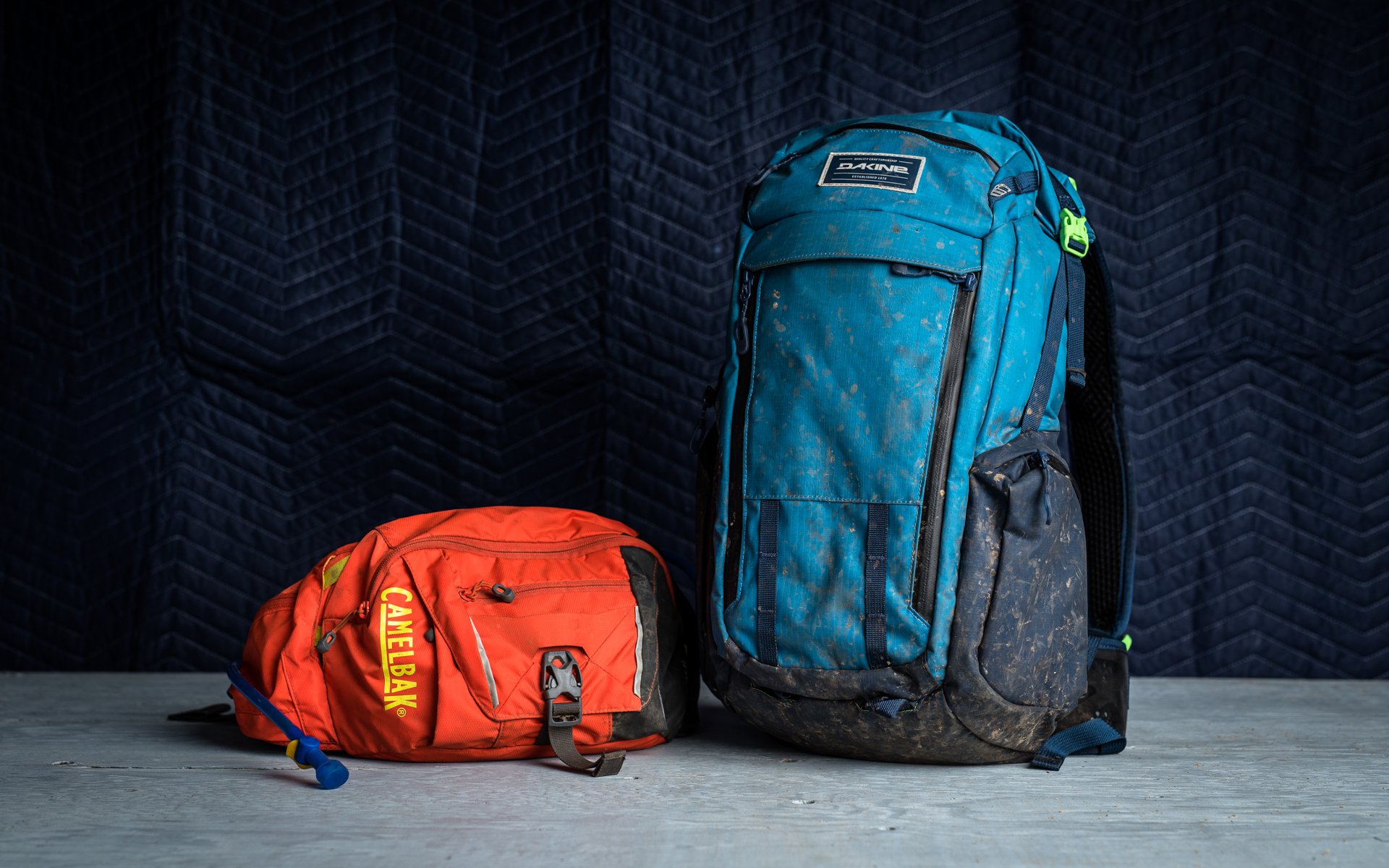 Two Packs Reviewed
2 Pack Options: One Back and One Hip
Carrying something is a necessity for most of us. For some that only means a water bottle while others need to be able to MacGyver their way out of any sort of mishap. I generally sit somewhere in the middle of those extremes; I like to be prepared but I don't want the weight of my pack to slow my mo. I probably carry about as much as your average enduro racer on most rides, plus a flask and the odd can of beer to cap off the climb, but lately I've been trying to figure out a way to do it differently.
We had one of the crappiest winters ever for mountain biking. It was cold and wet and snowy, so extra gear became even more of a necessity. For most of the winter, I wore a Mission Workshop Hauser. While it worked well and held lots of gear securely it lacked many of the features you get from Camelbak or Dakine, but it's waterproof and that was amazing. So when the Dakine's first waterproof pack arrived, the Seeker 15 litre, I was keen to try it.
Dakine Seeker 15L
The Seeker uses technology pioneered by Deuter to keep the pack off your back. It has a suspended mesh panel that contacts your back creating a channel and pushing the bulk of the bag away from you. This allows airflow and prevents sweat absorption. When you take it off at the top of the long climb and put it back on it's completely dry which is amazing. In this case, it also provides space for a spine protector, although one wasn't included with our tester.
The Seeker stores water low and has a multitude of pockets and zippers elsewhere. The top pocket accesses an open storage space and it has a rolltop and waterproof side zipper for access. The lower pocket is where there are mesh sleeves to store your tools, pump, and flask.
Right away I was unconvinced by the Seeker and I attempted to modify it. The back mesh panel is held under tension with a plastic insert inside the pack. The plastic panel is too long in my view and it pushes the pack well away from your back, increasing the swing weight of any water and gear you are carrying. I assumed I could slide it out and cut it a little shorter to decrease the bow, but alas it's sewn right in. The dramatic bow also compromises room for water and gear, making it difficult to insert even a partially full bladder in the lowest pocket and generally squishing the entire interior volume.
On the trail, I was never able to adjust the straps to hold the pack securely. It often would bump into the back of my helmet on steep sections or swing left and right when things got rowdy. This experience got me thinking about trying to ditch a pack altogether. I have heard that others have had better success so perhaps the Seeker and my lanky 6' frame is a bad combo.
Despite these issues build quality was excellent and everything I stowed stayed dry in the nastiest showers. My favourite feature, however, was the magnetic keeper for the hydration tube. It held the tube securely but I could grab it whenever I wanted with ease. When I was done I just spat out the nipple and it always found its magnetic resting place. Every single time.
---
Camelbak Palos LR 4

Lately I have been trying to switch over from wearing a backpack on every single ride to only wearing one occasionally in the warmer months, although I will likely keep packing up most days in winter. Since I've been riding Cushcore I've gotten cocky and stopped carrying a tube, pump or CO2 for most rides, but I've been riding a bike with only an under top tube cage so water has been a problem. First I bolted a pump on the bottle mounts and at the end of the ride, it was nowhere to be seen. The bracket held onto the pump fine but the bracket broke free along with the pump. On another ride, my bottle was gone by the end. Without riding a Specialized with a SWAT Door and/or getting OneUp's new tool, the EDC or Every Day Carry, I'm stuck lugging something on my back. But as it turns out that hasn't been so bad.
Camelbak sent us a hydration fanny... er hip pack to try; the Palos LR 4. I was skeptical about how well this would work, especially after someone I know in the bike industry announced on social media something like, "Worst.Idea.Ever." For my first ride, I found a spot for my multi-tool in an easy to access hip sleeve and a spot for my spare glasses and then I put in about 750 ml of water (a large water bottle's worth). This left room for a light jacket, a pump, and a tube. It was a tight squeeze to get my wallet and keys in but I managed it. Now that I've jettisoned pump and tube everything fits well.
To start with I had no idea what to do with the nozzle. It's long enough to reach my mouth obviously so this leaves a lot of hose hanging around where you don't want a lot of hose hanging around. Eventually, I settled on wrapping the hose around my back from right to left and then using the magnetic holder on my left hip. At this point, I have only been drinking when stopping to rest or consolidate the group so I also tuck the hose into one of the elastics that holds the excess belt strap for security. It's not really any more user-friendly than carrying a bottle but when climbing I could easily do without the elastic strap and access water from the saddle. Ease of use could be better but the weight of the water is spread evenly and I find it much more secure than wearing even a light pack.

The advantages of carrying weight around your waist are many. Your shoulders are free increasing mobility, ventilation is improved, and the weight swings around much less than even the best fitting backpack I have worn. If you have shoulder or back problems you may get some relief from wearing a... hip pack, but on the first few rides I felt it in my lower lumbar. Since that time I've had no discomfort. I may be a convert for the warm seasons.
The Dakine Seeker 15L is priced at US$200 click here for more info.
The Camelbak Palos LR 4L costs US$75. More here.