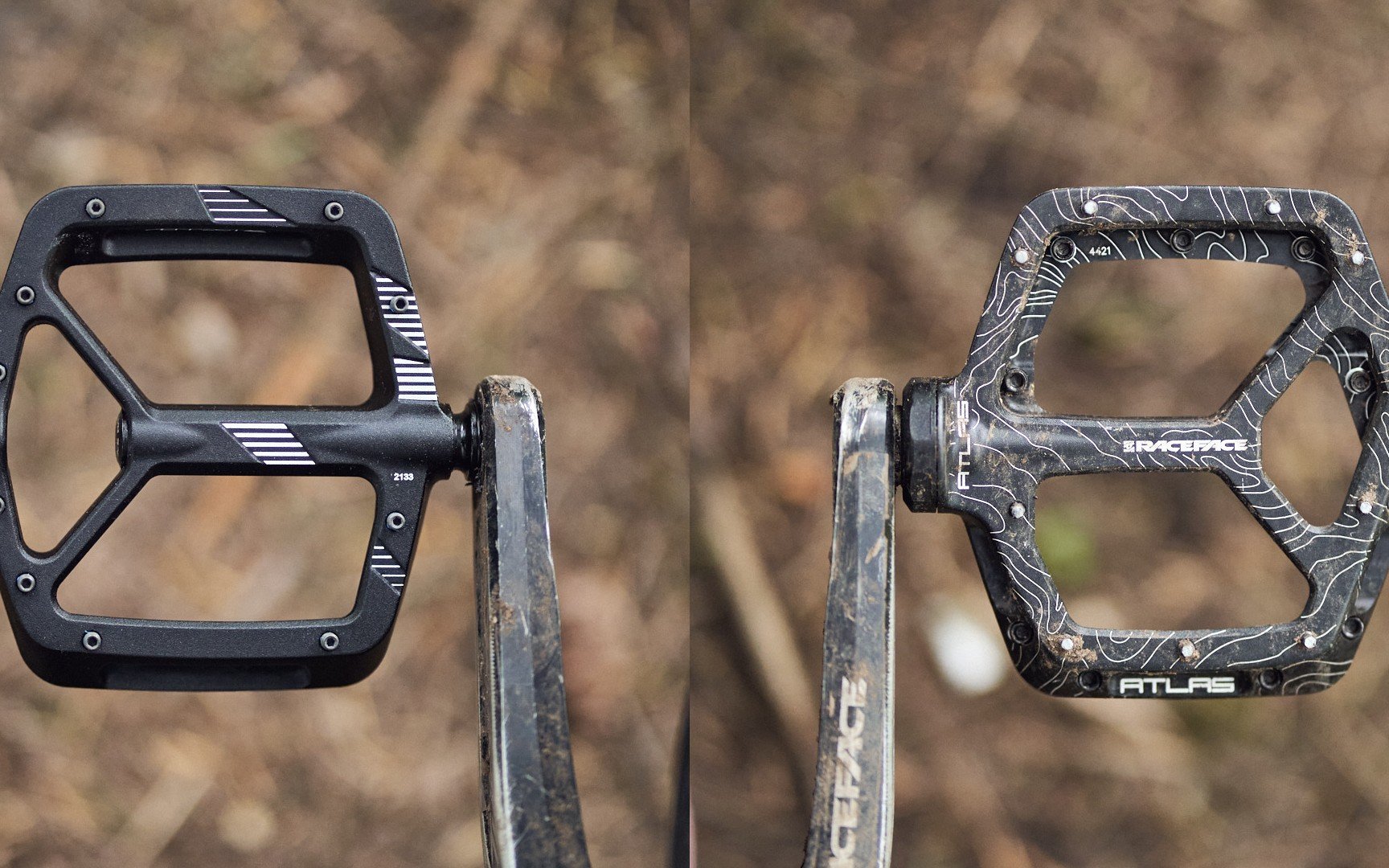 REVIEW
2 New Flat Pedals: Race Face Atlas and Aeffect R
Race Face updated their Atlas and Aeffect flat pedals this year and the results build impressively on the previous versions. Both pedals are good grippers, they are easily serviceable, and they weigh a reasonable amount. It seems like the durability issues that plagued both pedals, but especially the Atlas, have been solved. Each pedal's features and my ride impressions are detailed below. Full disclosure: I liked the Atlas way more than the Aeffect R pedals so most of the test time was on the former.
Atlas
I tried the last gen' Atlas pedals one day last year and I really liked the feel, ease of on-pedal movement and the platform size. I subsequently learned of many problems with Atlas pedal longevity. Some of the comments I found included: seized bearing, worthless seals, body falling off spindle, excessive side play, grinding under load, etc. It seems that the RF engineers listened and designed a more serviceable and heartier pedal that still stays lightish at 386 grams per pair compared to the previous model's 355 grams per pair. The pedals come with a lifetime warranty can be serviced with a 30 mm socket, vice, crescent wrench, or Knipex pliers. It looks pretty easy in the Race Face tutorial. The larger than most, 6802 sealed cartridge bearing should spread forces over a greater area, hopefully minimizing past bearing issues.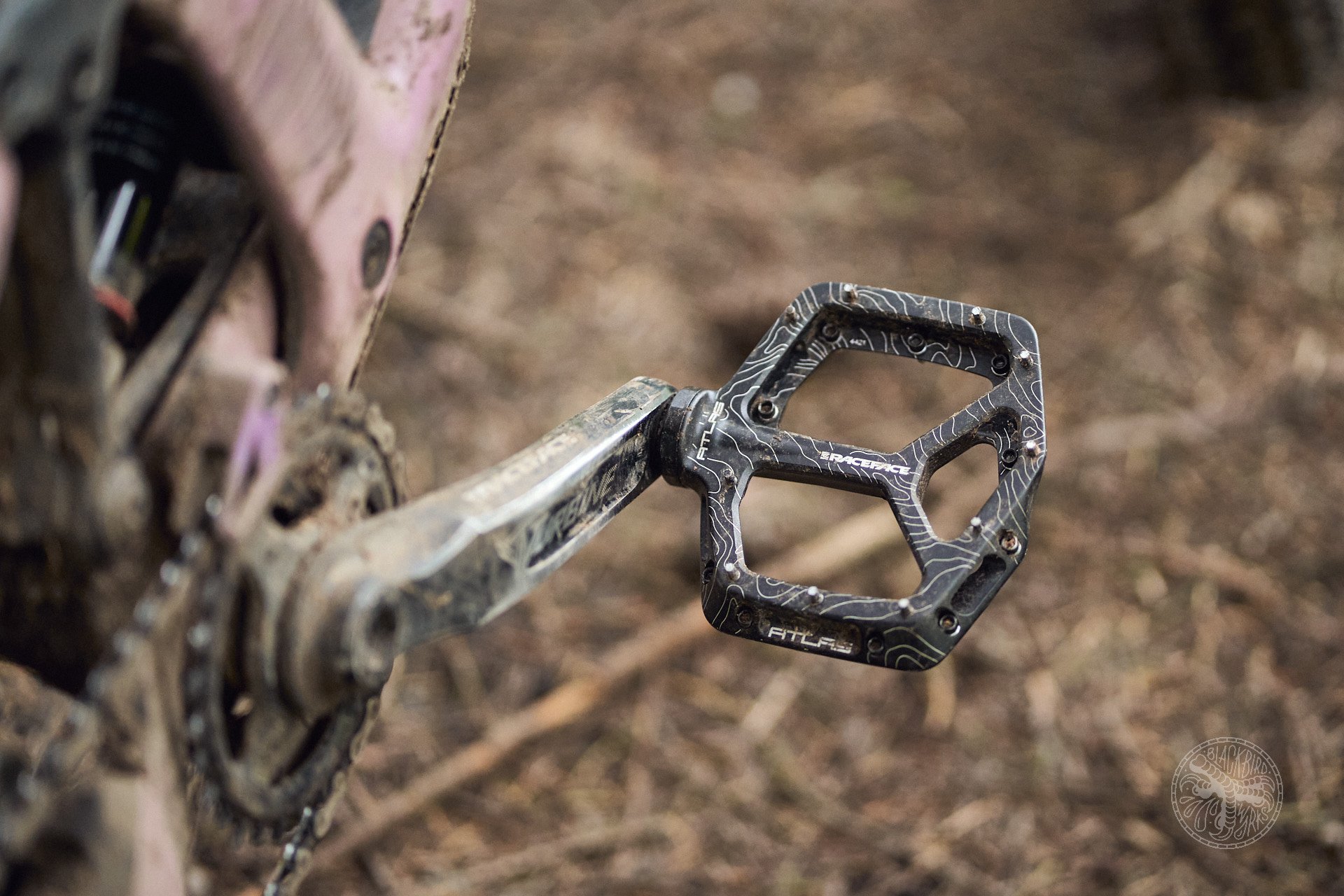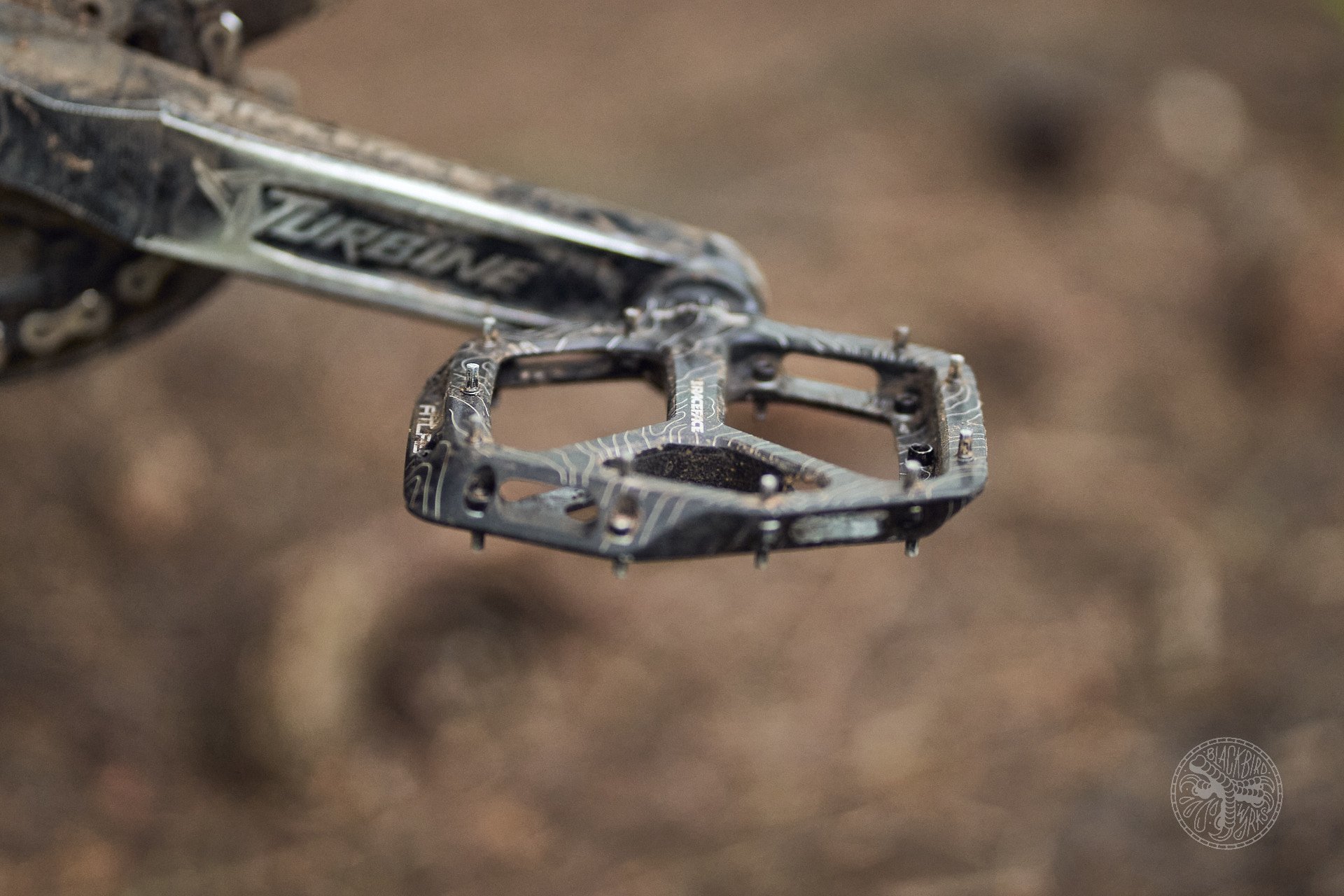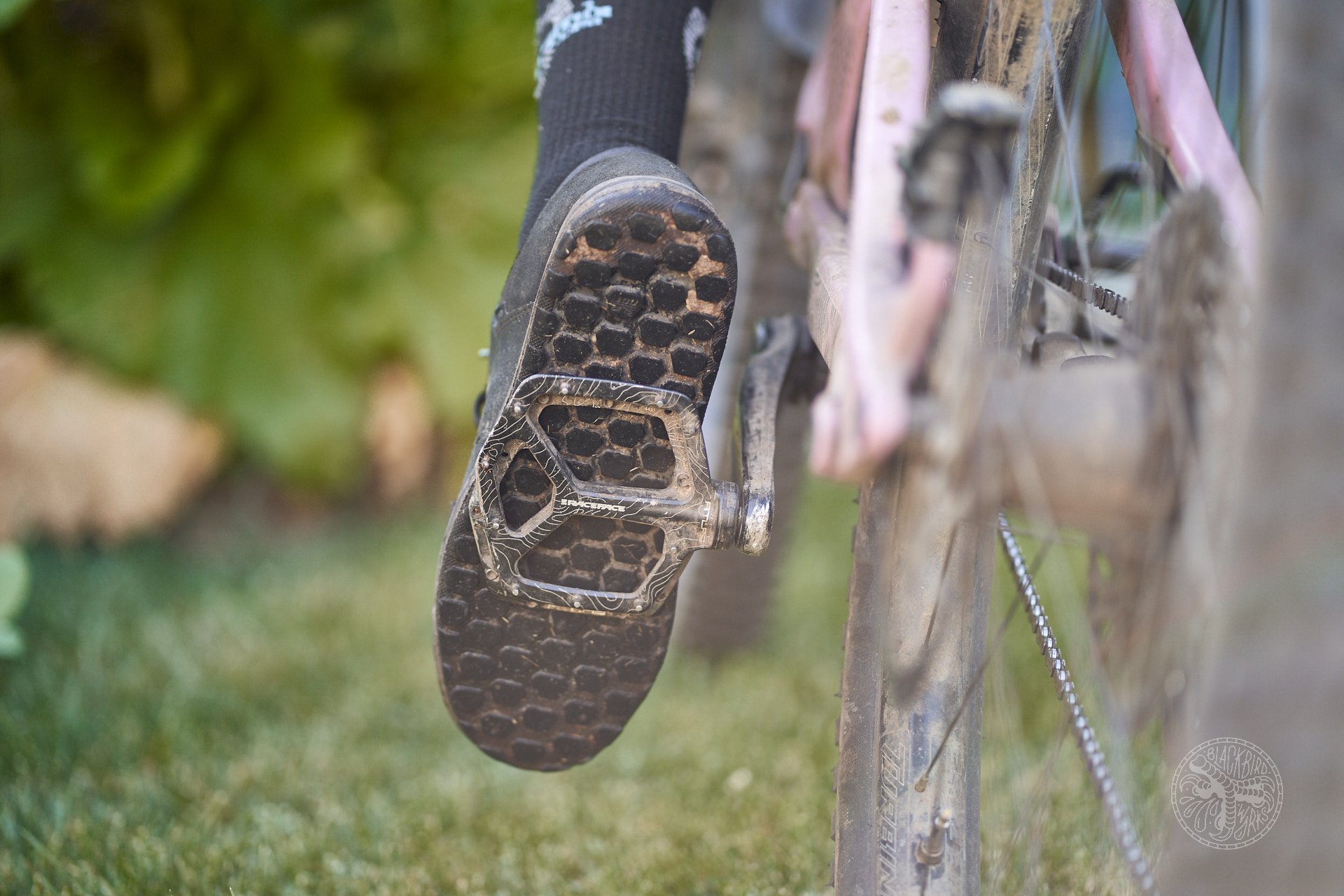 The new Atlas profile is slimmer, and the chamfered edges have been updated to take hits while still being thin enough to avoid low hanging hard fruit. In addition, the pedal fits all crank arms from the major players. Previous models would not fit some carbon cranks with crank boots (Sram for one).
The new platform bumps up a bit from 110 x 105mm to 110 x 108mm. Compared to the OneUp pedals (115 x 105mm) I was using prior to the test I can't say I noticed much difference. The difference I did notice was with the feel and grip. The Atlases were grippier and stayed in place over the rough stuff a bit better than the One Ups I was used to. I rode the Atlases with old Five Ten Trailcross shoes, gently used Dakine Drifts and brand new Specialized 2FO Roosts. The feel and grip was excellent with all three shoes. What I found interesting was that while feeling grippy, they allowed for on-the-fly foot adjustments. I still had to lighten my load a bit to adjust but it seemed easier than with my other pedals.
The new longer bottom loading pins come with cute tiny washers for height adjustments. One can even play with the washers for more or less concavity. I tried a few rides with all pins and no washers then tried a single washer on all pins and I liked that height more than the shin-calf meat eating tallboys.
The victim of packaging that I am loves the colour choices. Of course I was sent black but that is the official bike parts and clothing colour of the Shore so I am okay with that. Other choices include blue, green, orange, purple, red, silver, turqoise, and a bronzey one RF calls kashmoney.
After about 20 rides Race Face's Atlasess have become my favourite pedals to date. How they fair over the long term is still to be seen but the new changes to the pedal body seem like they will do well over time.
Features
Price: 219.99 CAD/ 179.99 USD
Dimensions: 110mm (L) x 108mm (W) x 14mm (D without pins)
Weight: 386g per pair
Pedal body: 6061 aluminium
Axle: Chromoly steel
Number of pins: 20 (10 per side)
4 Spare pins and 40 pin washers included
Pin length: 6mm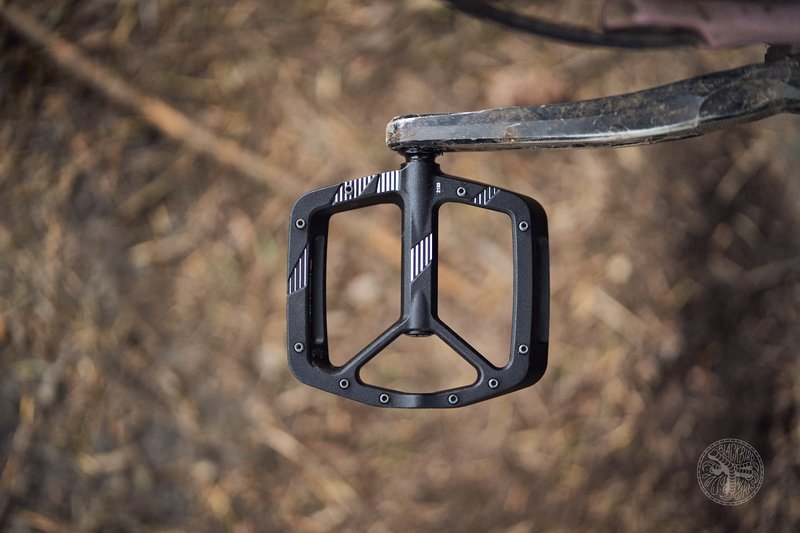 Aeffect R
The Aeffect R is the new big platform version of the Aeffect. This higher-priced (169 CAD vs 159 CAD), heavier (440g vs 375g) sibling in the Aeffect family, sports several new features including a 110 x 115mm platform (Aeffect is 101 x 100mm), a lifetime warranty, 10 top-loading hex pins per pedal, 6 colours, and a thinner platform height (15.5mm vs 16.9mm). I really liked the larger platform even though it was only 7mm wider than the Atlases. On other pedals I feel like there are times that my shoe is hanging off the side before I can adjust it. With the Aeffect R's extra width it seems less of a problem as more rubber is on the pedal. This could all be pedal placebo but it's part of the jumble that floats around my brain when I am riding.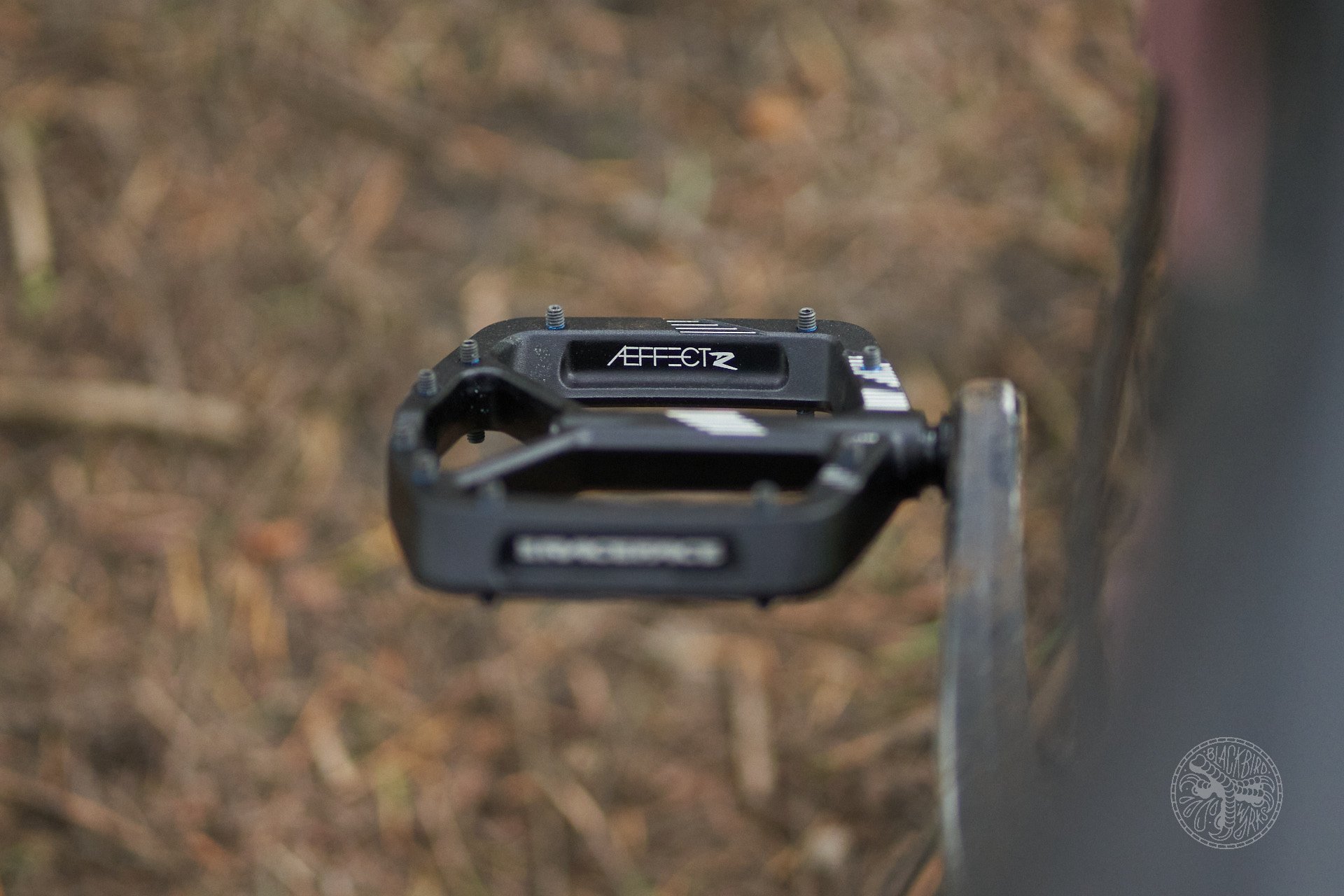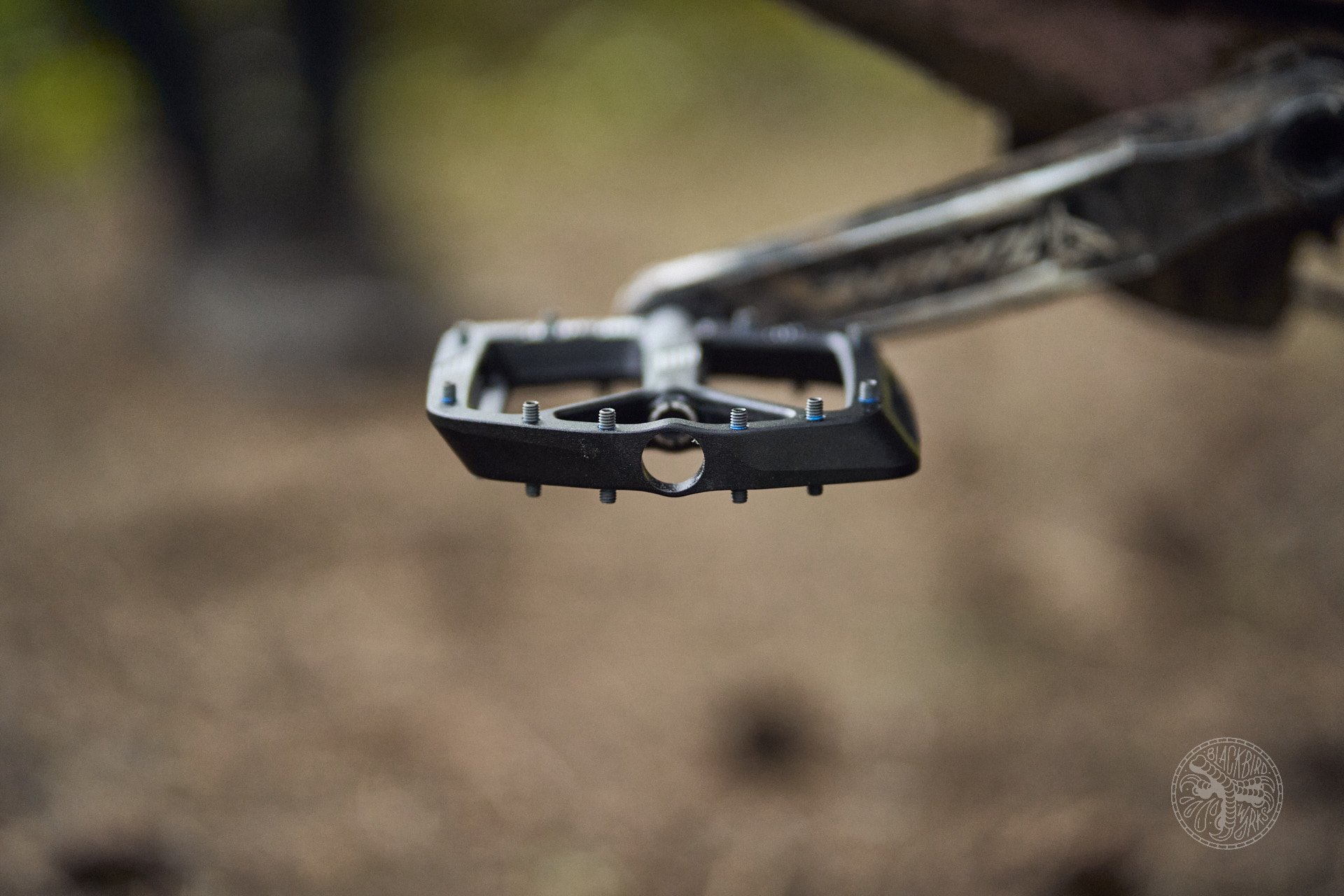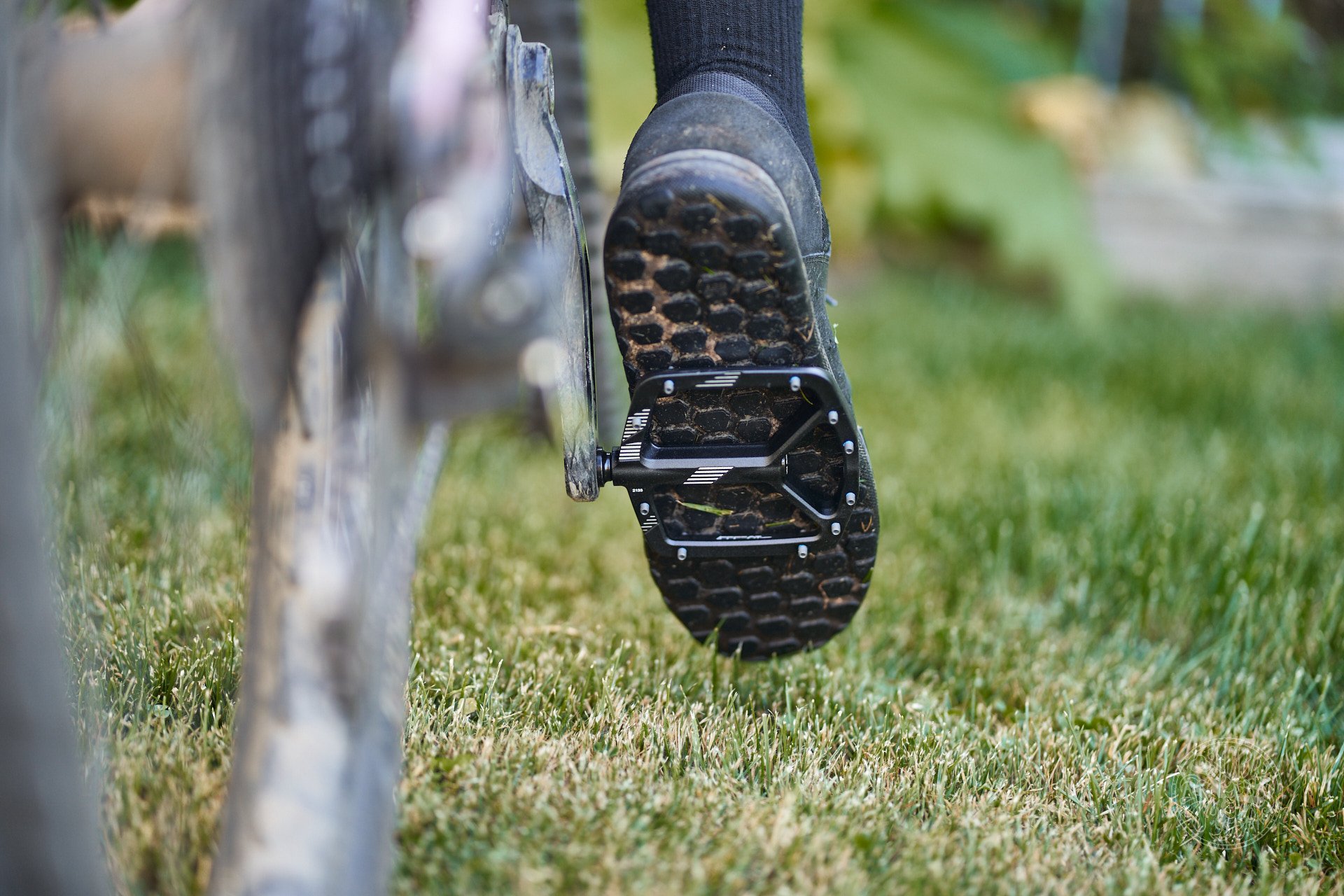 The Aeffect Rs come in 6 different colours: black, blue, green, purple, orange, red. The pedal edges have a reasonably chamfered edge to help with pedal strikes. The internals run on a traditional inner sealed bushing and outer sealed bearing. Compared to the Atlas, these internals are not as beefy. That said, Raceface still backs them up with their lifetime warranty. Other than the larger platform, I found the pin grab worked well. On-the-fly adjustments were easy when I unweighted slightly. I probably would have like these pedals more if I had tried them before the Atlas. I definitely did not use them on their intended terrain; they went down similar steep, fast, gnarly trails as the ones I rode on the Atlases.
After 6 rides I figured I had enough ride time to spew the goods on the Aeffect Rs; and get my 2FO Roosts back on the Atlases. I see the Aeffect Rs as a good pedal option for riders looking to cap their spending at about the 170 CAD mark. In the bike world it's always a question of whether or not we want to spend extra cash for a higher end product. In this case for about 25% more (50 bucks) you could pick up a set of Atlases, which for me would be money well-spent.
Features
Price: 169.99 CAD/ 129.99 USD
Axle MaterialChromoly Steel
Body Material6000-Series Aluminum
Material6000-Series Aluminum
Platform Height (MM)15.5
# of Pins20 SHCS hex traction pins per pedal (10 per side)
Platform L x W (MM)110 x 115
Weight440g