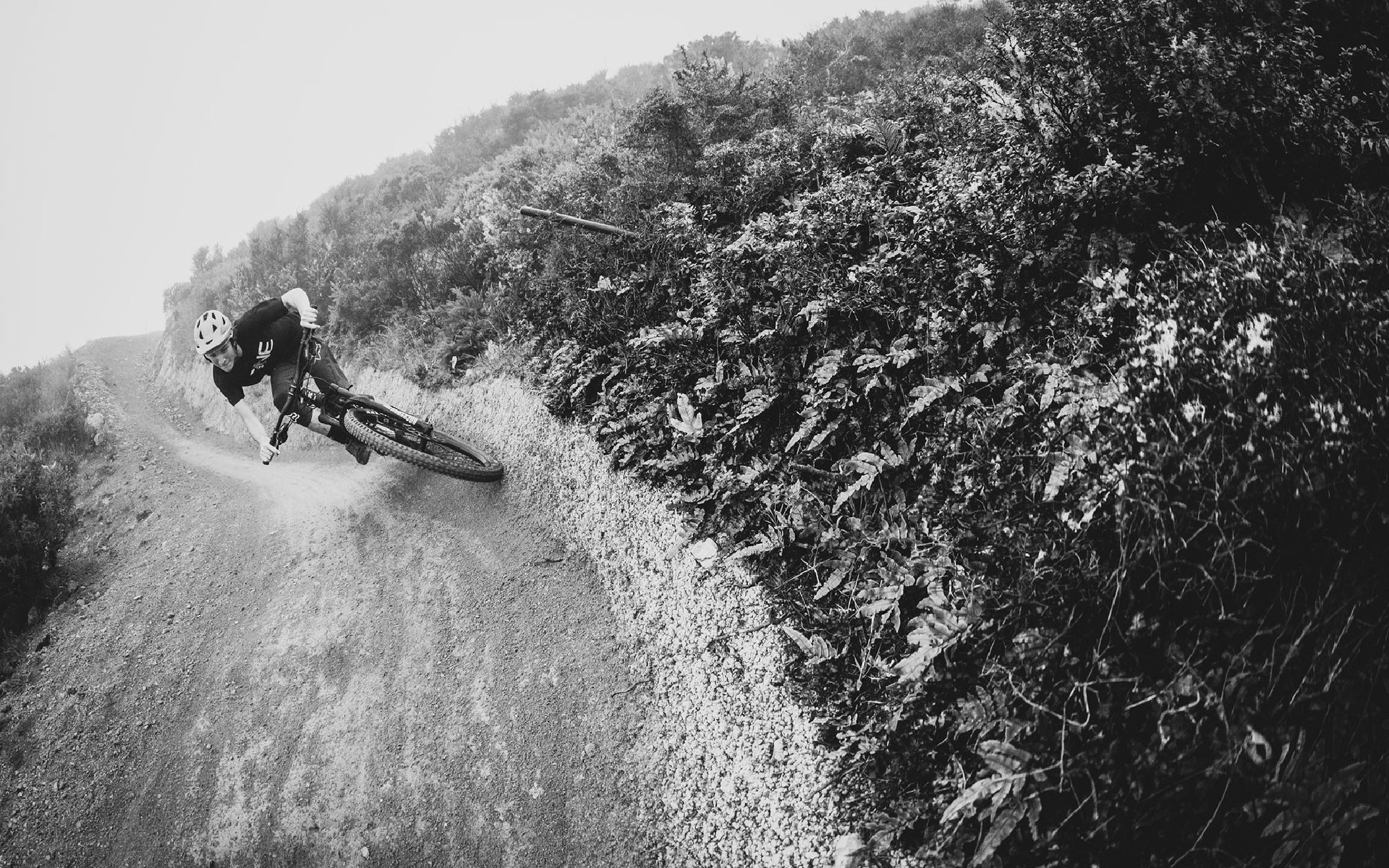 Can we Travel Already?
2 Days and 4 Rides in Wellington NZ
This article was mostly written pre-COVID, but it seemed cruel to entice riders to NZ when it wasn't even possible to cross our southern border, so it got shelved. Things haven't exactly opened up yet, but I'm hopeful the needle is going to move in the right direction over the next 6 mos. so we can once again visit sweet riding spots in foreign lands.
---
If you are a mountain biker, you've likely heard tales of the riding in New Zealand and maybe even seen videos from Queenstown and Rotorua. Trails ridden by pros can't help but look sweet, but I have always thought the trails in New Zealand are the most likely to tempt me away from B.C. The dirt always seems incredible, the building creative and fun, and you get the impression that NZ loves mountain bikes, while in many other parts of the world dickheads are setting booby traps and generally treating riders like locusts. When the call came for a bike launch in Nelson, N.Z. I was quick to respond.
But four days in New Zealand? It's a bit of a hike not to stay longer. Press launches often feel like a long round trip flight briefly punctuated by some food, drink, and riding. When they are overseas, especially across the Pacific, I try to tack on some time to make it worthwhile. I'd never been to NZ either so I needed to squeeze out all the juice. One of my first moves was to call my friend Caleb Smith,* a former journalist who now works in marketing and produces media for Kona from Wellington, New Zealand's capital.
*founder of Spoke, New Zealand's longest running mountain bike publication
Caleb tossed around a few ideas before finally telling me I should just visit him and sample some Wellington single track. My final destination was Nelson, which is at the North end of the South Island, while Wellington is at the south end of the North Island. On paper that sounds easy enough and there are of course ferries across the Cook Strait linking the two. Unfortunately the ferry and subsequent bus ride are a six hour ordeal so I opted for the quick hop between the two to preserve my precious Kiwi time.
Caleb is a large man and it turns out he drives a comically small vehicle; a 1985 Suzuki SJ413, which is a Samurai before they were called Samurai. I'm not sure if he has to duck while he's driving or if the slouch is his trademark, but it's amazing how he folds himself into Lucy. I'd love to bear witness to him off roading her, which he does regularly.
Our first stop was a bite to eat along Lyall Bay at the Maranui Cafe, which is housed in a former Surf Life Saving Club. It's the sort of place that makes you feel a little cooler when you walk in the door. Together with the breakfast food and pilsner, the 15 hour flight was already worthwhile. Caleb laid out the plan for the next day and a half over eggs and the focus seemed to be; ride as much as possible.
Wellington is blessed with mountainous topography and easy access to trails. Singletrack seems to surround the city of 213,000 and there are even excellent riding hubs in the middle of town. Some are self-contained, designated riding areas while others link one area to the next. As we drove to Caleb's house he pointed to various hills and told me stories about the trails on each one. Which was pretty much every hill we passed.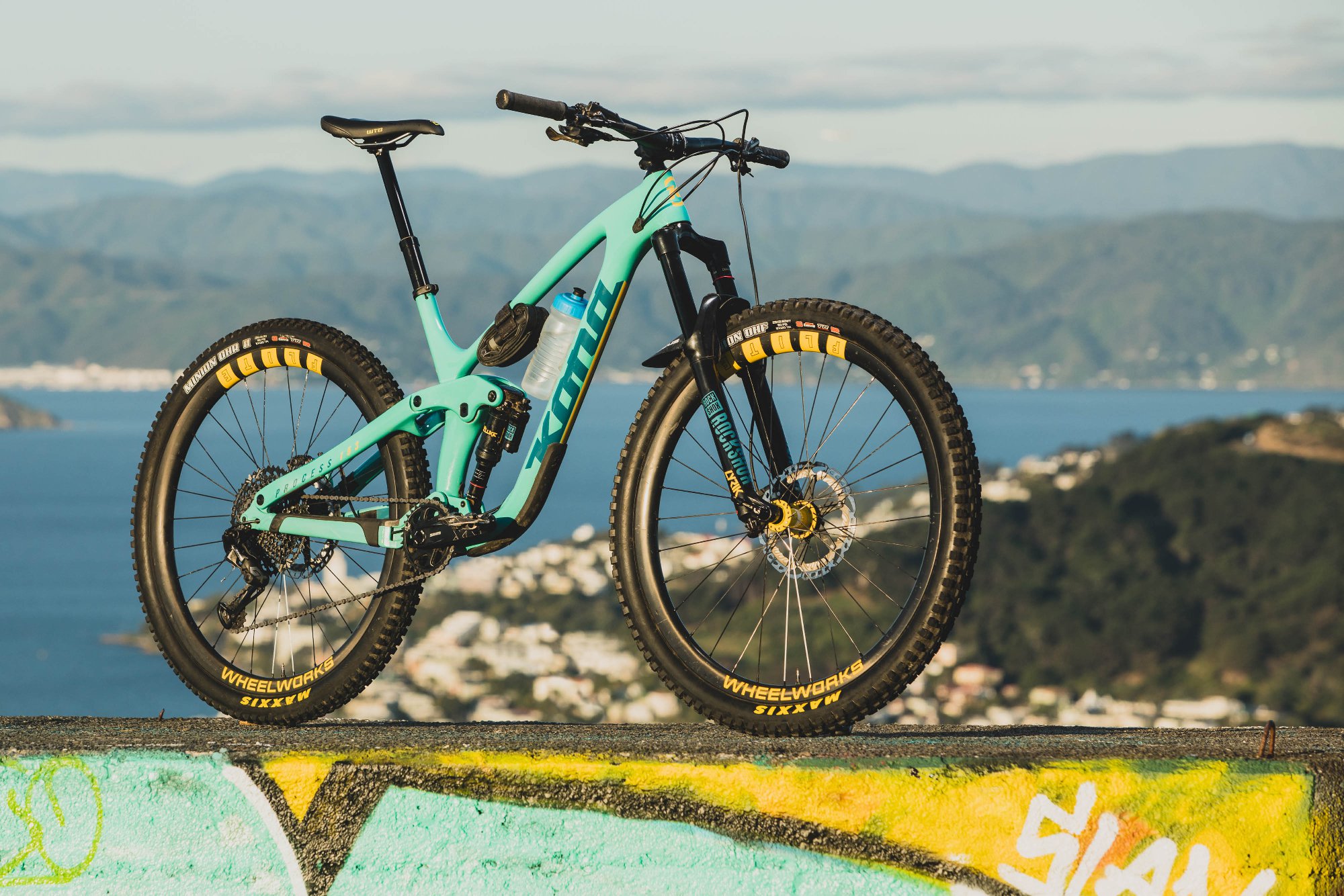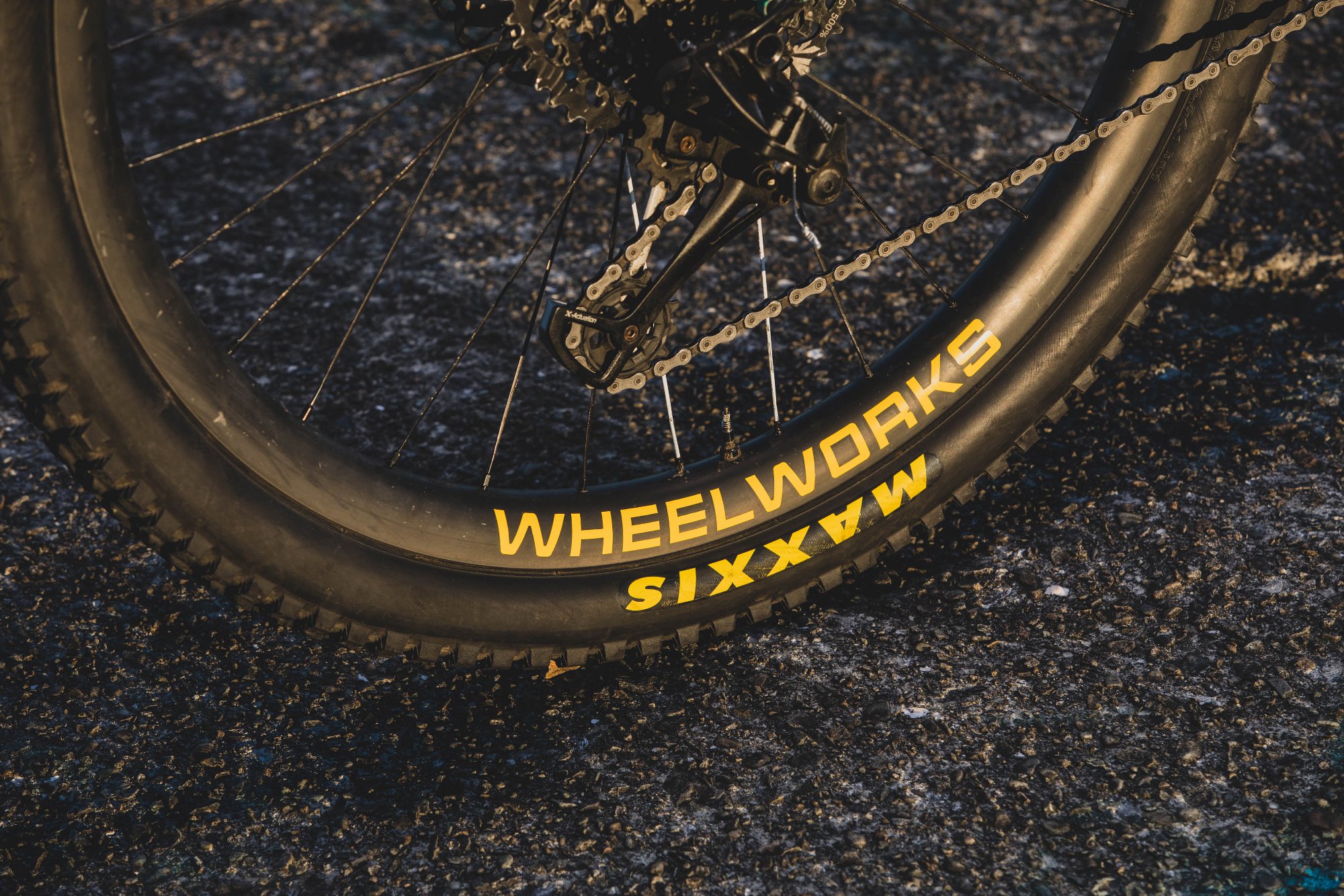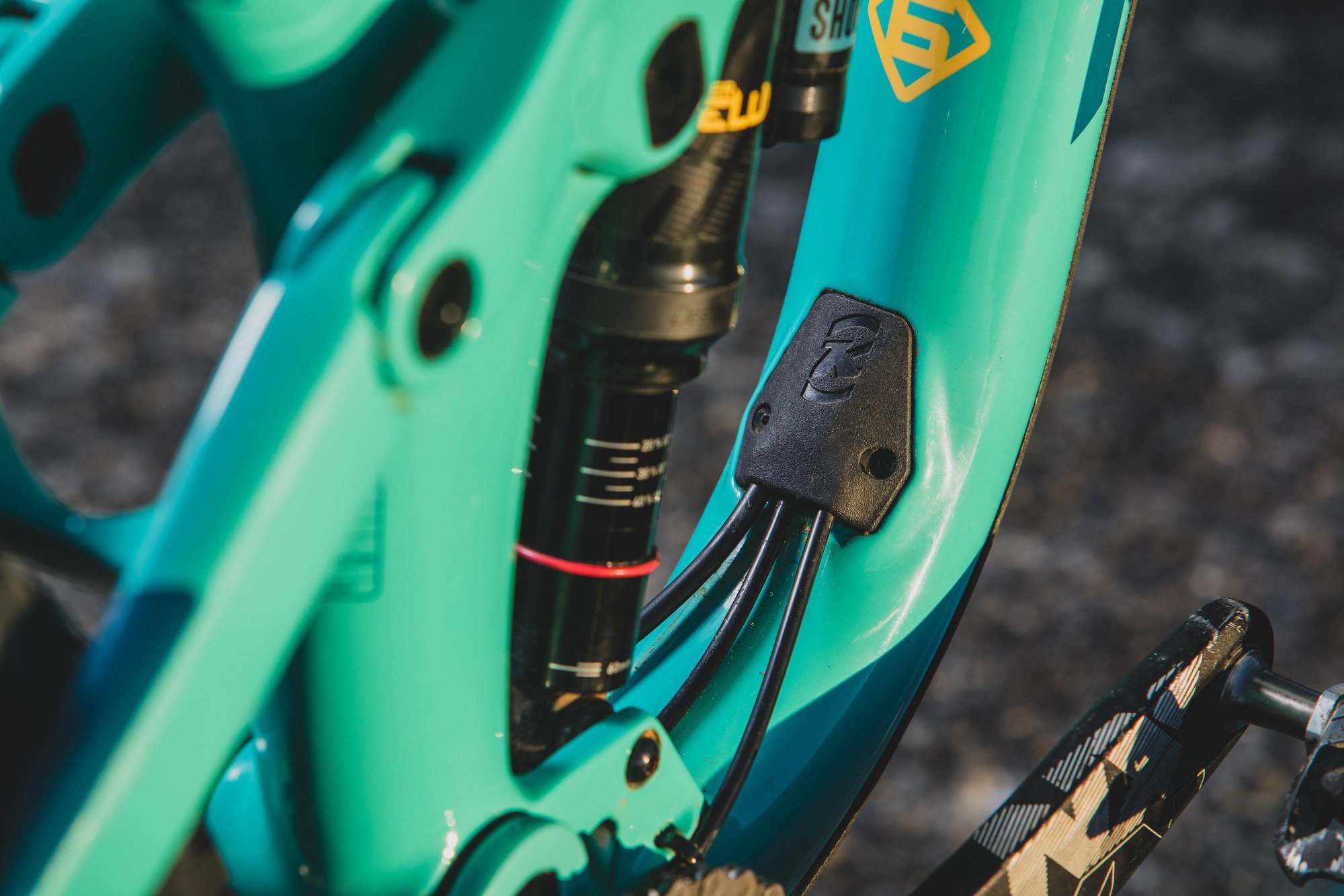 Before we got geared up at Caleb's place, we dropped in for a quick visit at Wheel Works, an amazing custom wheel building outfit run by Tristan Thomas, a Canadian who used to live on on Vancouver Island. The amount of engineering his company puts into each wheel build is mind boggling. Every spoke hole is measured on hubs and rims and spokes are cut to length accordingly for each spoke - every time. Many lasers and super computers are involved and the results are said to be worth all the effort. I've seen a lot of wheel building facilities, but none come close to obsessiveness of Wheel Works.
Caleb's ambitious ride plan was beginning to unfold and my knees began to tremble some. I was groggy from the plane and while the climbs were relatively gentle, Caleb seemed to be racing up so we could pack in as much riding as possible. Our first climb was up Makara Peak, a riding area of 250 hectares (almost 600 acres) with 40 kms of mountain bike trails.
Most trails are blues but there are a few greens, two blacks and one double black trail. Unfortunately some of the best trails were closed due to some operations taking place on the hill, but the lines we rode were more than worthy of our time. I learned quickly that the trails in Wellington keep you on your toes. There seem to be rapid changes of direction around every corner, the kind that would be welcome after a few passes but also the kind that allowed Caleb to leave me in his dust on my first pass.
It wasn't terribly windy for most of our riding time, but it turns out that was rare. In Vancouver when it blows 80 km/h, a wind warning is issued. When that happens in Wellington they call it a Tuesday. I was graciously hosted by a pair of Caleb's friends, Pip and James Rennie (aka RedDog who was the 2015 B.C. Enduro champ) who like Caleb spent a chunk of time living in B.C., and there were several moments when I thought their house was going to blow over from the strength of the gusts.
After Makara Peak we hit the trails literally in the middle of town on Mt. Vic. The place was filled with riders enjoying the singletrack and everyone seemed to get along fine. There were high speed lines, tech sections and everything in between. Originally the trails were all walking tracks but mountain bikers have been riding there for 30 years. There are now legal trails built by volunteers and still some renegade lines. Conflicts are unusual but Caleb told me they can blow up when friction occurs. The trails were even used for a World Cup XC race in 1997. We even ran into legendary Kiwi MTB journalist (he told me that. himself) Rod Bardsley up there, just one of the many friendly characters I met in Wellington.
The next morning we were off to ride Rata Ridge and the Wainuiomata Trail Park. Rata is a relatively rare riding area because of the native forest that continues to grow there. For some context, some years ago, when Caleb took Kelly McGarry (may he Rest In Peace) for a ride there, Kelly said he had never ridden in a native forest before. And it was indeed spectacular. The gnarled trunks and branches together with the din of the cicadas gave the place a prehistoric feel. The trail down from the ridge was steep and tight and an excellent challenge.
Once we got to the bottom it was time for our fourth ascent in 24 hours, this time into the Wainuiomata Trail Park. The bench cut climb cut through dense jungle-like vegetation until things opened up near the top. We rode some fun and challenging winding and occasionally bermed trails which had the Wellington trademark of surprising changes of direction. There were spots where the only way to make a corner smoothly was to take a tricky high line and swiftly swap to the other side. It was the sort of place that would make you a better rider.
Our grand finale was Deliverance. The trail is near Makara Peak but thankfully we shuttled up. There were sections that were a deep and rocky trench and others that had some decent flow and speed. Again I was caught off guard by some moves and the trail was a good challenge and a blast to ride. From the look of a more recent helmet cam of the trail, it appears to have had some work done since I was there. Either that or all the riding over two days had me shattered and it seemed much harder than it was.
The beers at the end of the day felt well earned and I was very glad for my bonus days in NZ. Thanks to Caleb and all the excellent Wellingtonians I met in my epic 48 hours in the real Windy City.