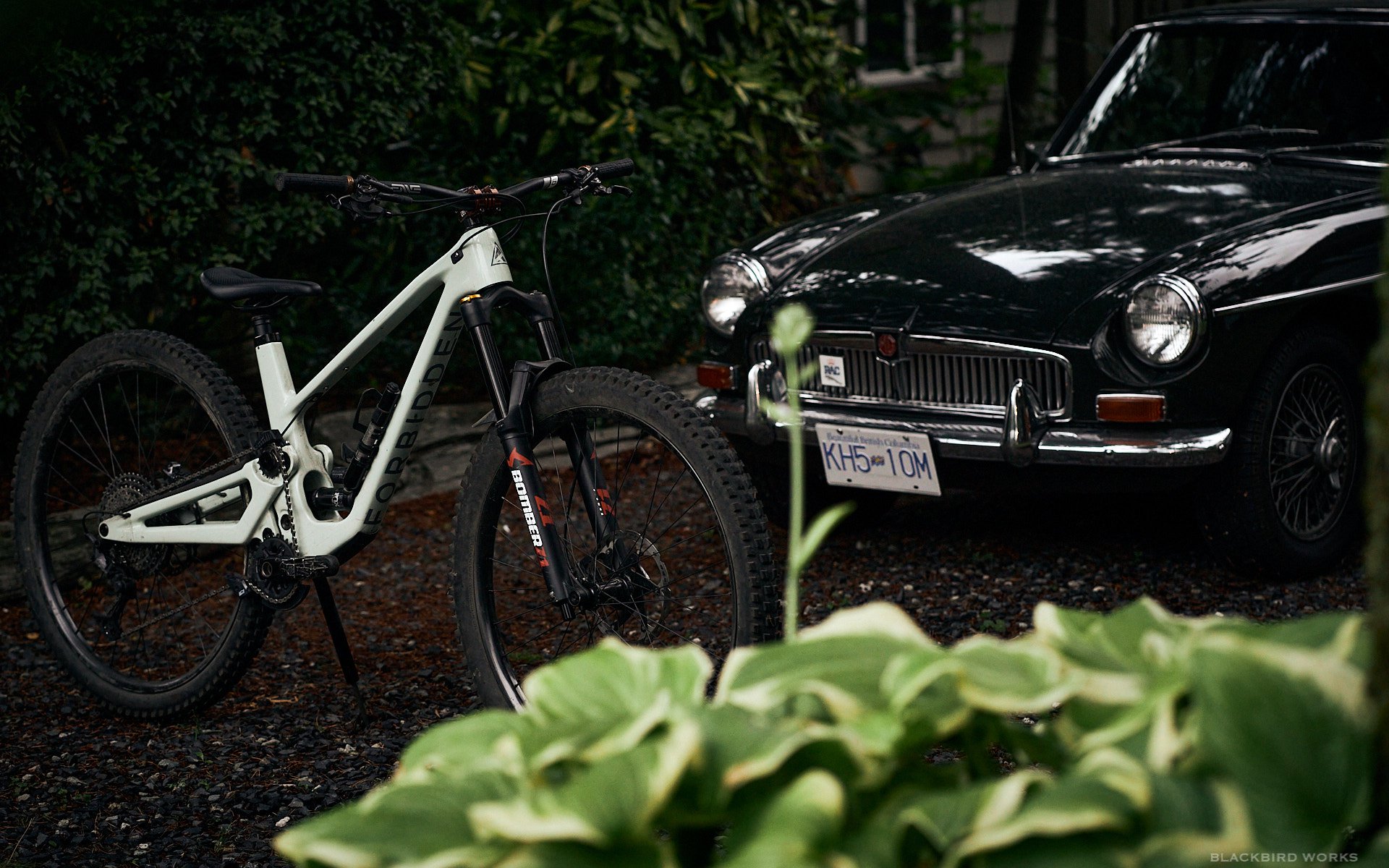 What is in the Water?
1967 MGB GT & Forbidden Bikes Druid Connection
First things first
The urgency to buy a car for me didn't appear until I moved from the vast urban public transportation network of Istanbul, Turkey to Abbotsford, BC - a town in the outskirts of Vancouver with almost no public transportation infrastructure. Getting around the big landscape of Canada was going to be a real hassle without some wheels.
When you grow up in the foothills of Europe, you get to live amongst some of the finest automotive designs to leave tire marks on asphalt. The idea of rarity becomes shifted towards cars from other continents. American cars were the bonus hits we would try to spot on our daily adventures. A Chrysler Town & Country gathered more curious looks than a Porsche 964 in our group.
And man... we all wanted to drive a 90s Corvette ZR1, in Black.
I remember my long ass flight landing in Chicago O'Hare in 2001 and first sights of the tarmac were followed by all the Airport service vehicles lined up around it. Chevys, Fords, Internationals. Mostly vans and flat-beds, the bottom feeders of the pyramid. They looked so unfamiliar and I couldn't wait to get a closer look at one. I was more excited about the car culture than I probably should have been.
Bikes of course were a priority, and bike people always delivered the conveniences. My buddy Jonathan, who was and still is a chronic buyer and seller, had a 1977 Oldsmobile Delta 88 he'd sell me for 500 bucks. He even installed the CD player with his brother in their garage. I was hooked into DIY car culture right then and there.
A 1977 Delta 88 was the pace car for Indy 500, although it meant nothing to this particular sample, it was comfortable and over 5 meters long; the longest production coupe at the time. It also had all the luxury features. Power everything and a suspension so soft you couldn't tell if you got a flat tire. The small block 350 had no guts but it got me places - including some remote corners of BC and Alberta - without much fuss. The transmission gave out one day, stranding it in the driveway. I sold it for $200 and moved on.
Funny enough, Jonathan acquired another new to him vehicle and his fairly reliable Mazda 323 was up for grabs for some pocket change. That car got abandoned in Princeton, BC, one snowy November night as it blew a sparkplug clean through the hood going up the Crowsnest highway. I rolled back to Princeton in shame, took the Greyhound home with a tape deck and licence plates in hand. Only lesson I learned was to stop buying Jon's old cars. It was also about time to learn how to fix things myself.
My next couple of cars were equally unexciting: a mid 90s Dodge Caravan, which served up fantastic road trip opportunities and a Chevrolet Z24 that finally weened me off automatic transmission-equipped American cars.
The Motoring Begins
I was getting comfortable with working on small projects on my cars and I knew I needed a manual gear box. Maybe a convertible? It never rains in Vancouver, right?
I was researching affordable vintage cars with no electronics. Living in Vancouver's West side, I would occasionally catch a glimpse of dark green, wire-wheeled, tiny convertibles in the neighbourhood. Slim, small, and with a perfect exhaust note. For $2800 it sounded like a good deal so I jumped on the opportunity to test drive the 1974 1/2 MGB.
It was clunky and felt slow but on a sunny warmish day in April, top down cruising around the University of British Columbia, I pulled the trigger on the red convertible. I also made a vow to never put the top up as long as there was no rain.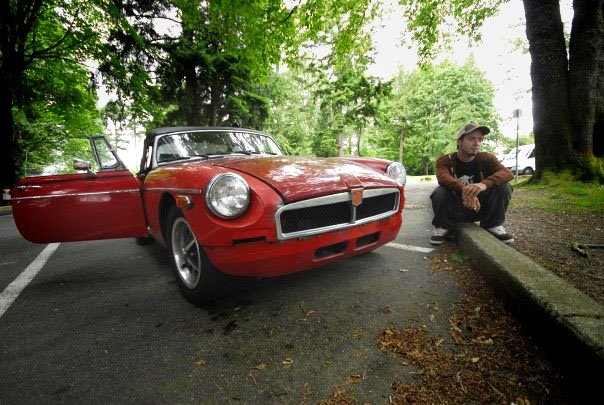 I rolled back to Princeton in shame, took the Greyhound home with a tape deck and license plates in hand. Only lesson I learned was to stop buying Jon's old cars. It was also about time to learn how to fix things myself.
There is a subtle connection between "Why do the British drink warm beer?" jokes and the way they develop and execute their cars. Most of the infrastructure for the car designs of the 20s was made possible with the surplus of mechanical parts from the wars. As an industrial hot house, the UK had quite a bit of material to successfully execute incredible car designs that sputter and putt around the world. Land Rovers being the main feature.
MG was one of the most successful and loved brands out of the right little, tight little island. They focused on sports cars, which made sense in a post-xwar world of the 50s. The image they created was cheerful and the execution was quite fitting.
Indestructible cast iron farm engines crammed into tiny cars that didn't weigh much was sure to be a driving sensation. 1800cc pushing 45hp at the wheels is a little comical but the cheap thrills were plentiful when the cars only weigh around 2000 lbs (900kg). Wired with the most shady Lucas Electrics (they also made terrible fridges, hence the warm beers) you had a recipe for a fun time that could be troubleshot easily in any garage, roadside or a pub lot, really.
Once I realized the unique engineering of the MGB had much potential to be unleashed, I dug in with some tools on my driveway. Bloody knuckles were the sacrifice I made to the mod gods. Twisty narrow roads of the rural UK obviously did not require gobs of power to have a ton of fun on. But If I could squeeze out a few more ponies and improve the handling, I imagined I could have some serious fun in this car.
First came off the abomination that was the front bumper. California had a way of ruining excellent European designs to comply with DOT laws, the pre-74 MGs were stanced too low and lacked a proper impact proof bumper. So they stuck on a 70-lb black nose to make sure they handled like horse carriages.
With the bumpers off, the springs had to be lowered and heavier duty sway bars went on. After a very uncomfortable close call with the rear bumper of a BMW on a rainy day, sticky Falken Tires clad the Rallye wheels. I had a proper street legal go-cart in hand. It only made sense to weld a roll cage in case of an upside down situation.
One cold February day in North Vancouver, my neighbour jokingly challenged the Lucas electrics in the MG.
"You won't get to Richmond in that thing", he smirked as he got in his ultra reliable Japanese knife of a car.
I don't think I've needed any less encouragement for a spontaneous road trip in my life. I packed the car with spare parts and mix CDs and hit the road the following day. I made sure my full-time mechanic buddy Mike was up for the adventure too... just in case.
We drove, top town, 5000rpm the whole way through the night and next day to San Francisco. 24 hours of non-stop driving. Not just regular interstate driving, but PCH (Pacific Coast Highway) driving. Curviest, funnest roads any car enthusiast could hope to twist a wheel on.
Around mid Oregon in the middle of the night, the left headlight gave out. There was no time to stop or even slow down. We two-wheel drifted while avoiding animals on midnight road crossings on the PCH.
The brakes seized on the descent to Napa Valley. It felt like a low point but we managed to coax the callipers back to working condition after a sleepless night of driving. We crossed Golden Gate bridge at 7am, exactly 24 hours after our start. A quick stop at the parts store to fix the headlight and stock up on Castrol 20w-50, then we hit the road south. We then decided to drive to San Diego to complete the whole coast circuit. It was the most incredible driving experience I could hope for in a little red convertible. Totally uneventful in a modern sedan but also nowhere near fun.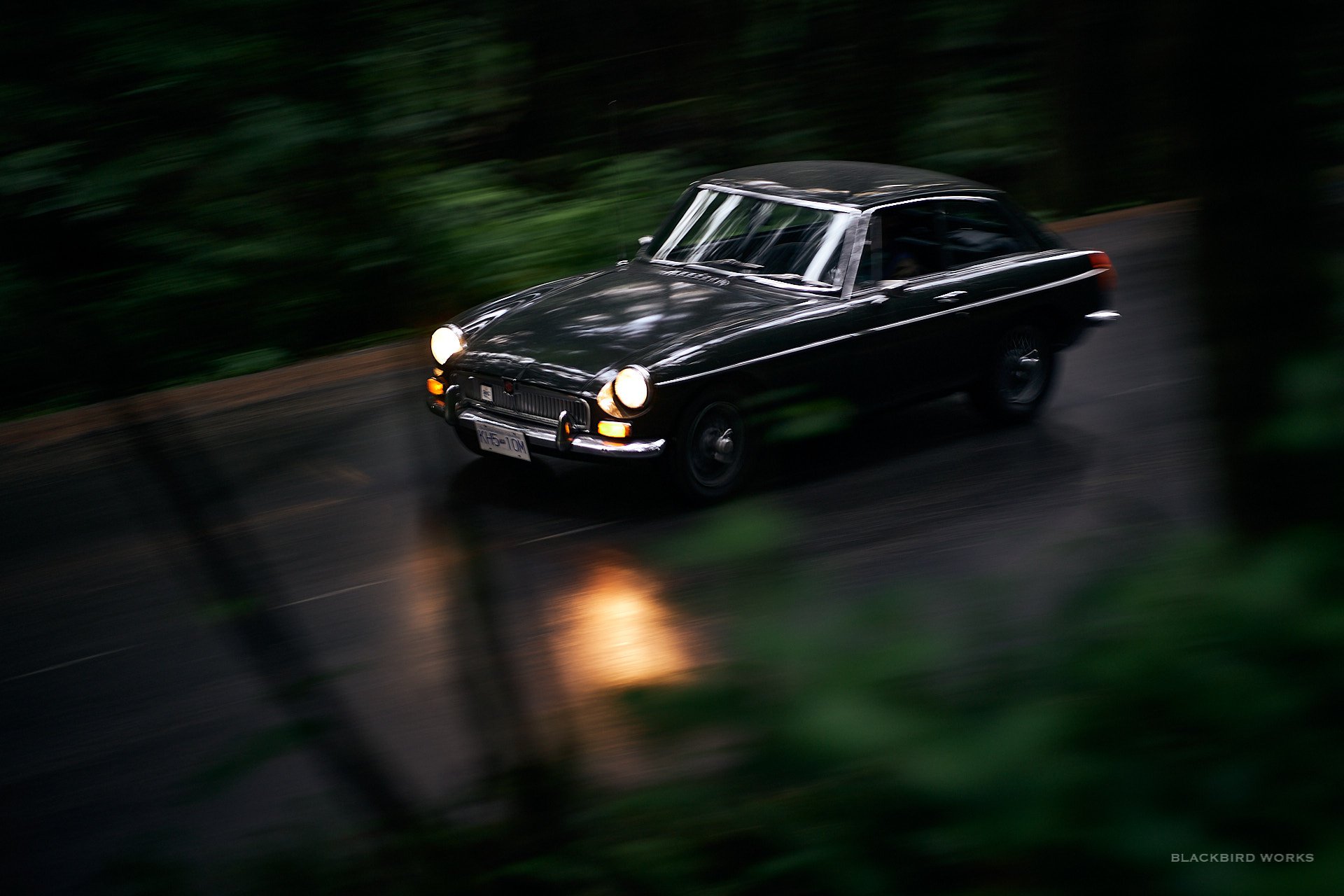 The more I drove the MGB, the more I appreciated the simple tactile sensation the English manage to fit into their creations. I could fix anything bolted to this car and it offered a direct, engaging driving experience I loved. The lack of power steering was a wrestle at slower speeds.
I didn't realized how good the MG was until I started winning Autocross races against cars like Honda S2000s and heavily modified JDM cars. There was so much grip that you could hang your arm out the side and touch the ground on hard corners.
If you don't get invited to the dinner table, build your own
The vast British CNC and fabrication culture is strong within the bike industry. The welders spark out of garages all over the place to create: bikes, parts and solutions for problems most companies turn a blind eye to. This kind of ingenuity is only possible when it's engraved in the culture. Where else can you find 4-5 different kinds of steel full suspension bike brands?
The guys at Forbidden Bikes know a thing or two about industrial design.They also know how to prioritize function so that the design complements the engineering.
Think about it, the Druid is the company's first bike, a 130 mm 'trail' bike that bridges many definitions. It uses a whole chain and some more. It is dead quiet, and boy does it ever descend. Unlike anything else in the market. Stable and at home hanging with big bikes with quite a bit more travel.
Kind of like the MG. You don't have to lift off the gas around the corners.
45 horsepower at the wheels means you need to optimize every single one of them. Using momentum to drive smooth and quick. There is no throttle backup to get you out of sideways trouble if you get yourself into it.
I learned how to momentum drift the MG pretty quickly. My time on the Druid has not been much different. The small amount of travel on tap means you have to be selective with your big moves but mid commitment decisions are easy to change.
Recently, I got the guys at Fox Canada to go over the DPX2 and update the valving to 2021 Druid Specs. The lightest tune Fox has ever made. I feel like I am on a whole new bike. The suppleness is improved to the next level. I no longer have to prepare for feedback through my legs on rough parts of the trail. The suspension will erase any chatter as long as I stay off the brakes. There doesn't seem to be a compromise on the bottom out resistance either. I gladly hucked my meat off of some big old school moves on Cypress Mountain and came away victorious.
I think about my time with the MGs often, and with great pleasure. I learned a lot from its simple and beautiful creation.
I remember trying to fit bikes in the damn thing, I remember when the brakes seized on the way down to Napa Valley. But the sensation and driving experience was nothing like what's available today. The closest any company ever came to it was Mazda with the MX5 (and really, they surpassed it). Still the best selling sports car in the market. Yesterday I ran into another friend who recently acquired a '72 MGB and I jumped in joy because how much fun they will be having driving the thing around.
The Druid is my MGB and I can't wait to ride it again and again and again.