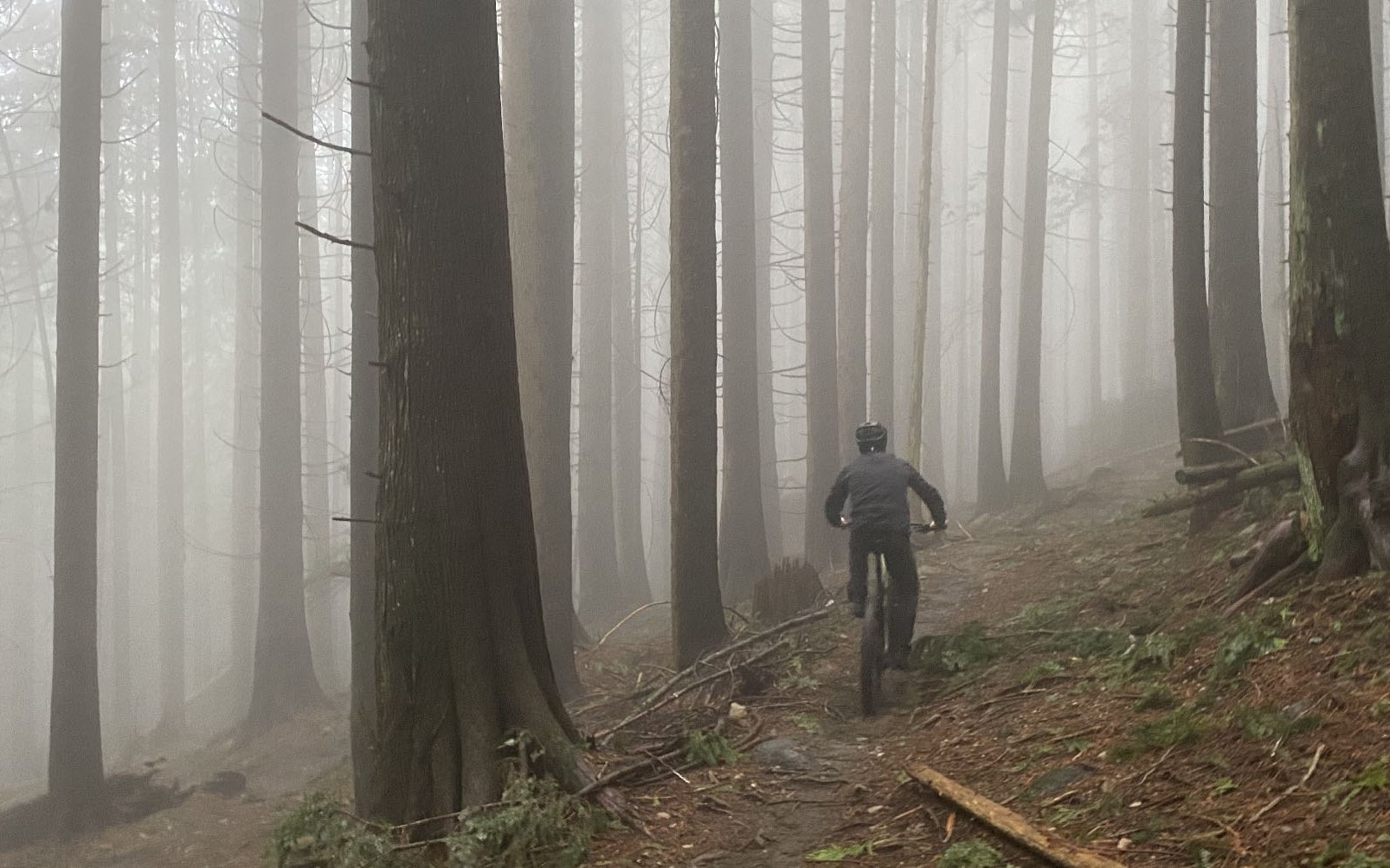 GUEST EDITORIAL
The 14 Laws of Loam 2021*
LAW 1a:
The Loam Ranger is regularly pestered for this article to be either re-posted or updated. Why can't I just climb down from my high horse and pedal slowly into the sunset? Unfortunately, it seems mountain bikers are getting dumber, and even more entitled (a stunning accomplishment), so I decided to oblige. I first wrote this in 2014 in response to what then seemed like increasing and irresponsible traffic on unsanctioned trails near Loam Ranger estates, without adequate attention paid to the reality of the situation. Compared to what we see now, those seem like golden days. And a word of warning; I'm not sugar-coating any of this, so buckle the fuck up.
*The Loam Ranger is in this case using the term 'loam' as a generic term for any trail that wasn't approved by, as he put it, "some bed wetter sitting behind a desk."
LAW 1b:
If you decide the existence of this article is an invitation to ride any illegal, unsanctioned, or horrendously aligned and poorly built trail on private or public land, you are letting your entitlement get the better of you. Anywhere there are unsanctioned trails, there are bound to be trails that are a terrible idea; the sort of trails that erase 15 years of hard labour and kowtowing to land owners by tireless volunteers. (Oops! Sorry about destroying your groundwork, but did you see my instabanger?). You thought a 25 foot step-down over that well-used hiking trail was a good idea? You know that trail on the downstream side of that creek? The one that rages so hard when it pisses rain that the trail and creek become one? Or that super fun high speed line that everyone can ride, carefully hidden inches away from the main access trail up the mountain? Those moves as strategic as O.J. Simpson telling the parole board to go fuck themselves.
LAW 1c:
There are absolutely places in the world where riding secret trails is the only option. There are zones where the numbskulls in charge have limited mountain bikes to crushed gravel paths, but only when ridden uphill. In fact I am quite sure there are more sound and logical reasons to build and ride unsanctioned trails than even a genius like me could dream up. The truth is, rogue trails are a reality of mountain biking, but also of dog walking, hiking, moto, horseback riding and mushroom foraging. These trails pop up everywhere there are trail users, and they have for as long as there have been trail users, but mountain bikers are likely among the most prolific, and among the most despised.
Often these trails are mind-bogglingly well-crafted masterpieces that provide a riding experience that IMBA wouldn't approve of, while scratching an itch that is going unscratched. And sometimes these trails aren't hurting anyone, aside from the odd pine needle. Regardless, many do-gooders would see mountain bikers as criminals when escorting seniors across busy intersections. As long as we're having fun, those people will hate us, so vigilance is key.
If you are in a situation where, for whatever reason, you've decided that riding unsanctioned trails is the way forward, use your head and educate yourself on local issues before you snap on your enduro goggs and rip into that needle-upholstered ribbon through the woods. Trail users are going to propel themselves on secret trails as long as there are places to build them but it's probably a good idea not to be an idiot, even an unintentional one, during that propulsion.
And most of all, for the love of Jebus, don't be a dick. Here are some guidelines to shield you from that phallic moniker.
LAW 1: Don't be a Bro (or the female or non-binary equivalent to a bro)*
The Loam Ranger may doubt the moon landing, often fail at recycling, spew mindless vitriol like a gasbag, and come at the world with more complaints than solutions, but he's not entirely an imbecile. I'm aware that if you are tuning into this dusty corner of the web, you probably know much of this. Which means your job is to help spread the word. Don't be an asshole about it, like me, and don't be a sanctimonious mofo, also like me; make your point and act accordingly. There may be more new mountain bikers now than there ever have been, so help them understand how things work.
Don't berate your friends; lead by example. Nobody likes a lecture but most people appreciate it when you grow some balls (or the female or non-binary equivalent to balls) and stick up for something you believe in.
*The Loam Ranger realizes there may (thankfully) be no equivalent behaviour outside the macho realm
LAW 2: Get off your Effing Bike (FFS)
If an entrance is hidden, it's because the trail builder thinks that's a good idea. Do not lock up your Minions and skid in over the camouflage of sticks and debris just because you're too lazy to dismount. How is that even a thing FFS? Lift up the carbon or aluminum-framed bicycle and carry it, and then put it down once you are safely past the concealed entrance. If portaging your bike for 30 seconds is too much effort for you, it's time to buy a golf cart; you don't deserve to ride a bike.
LAW 3: Don't Piss around near near Trail Entrances or Exits.
Putting on pads or making some adjustments to your bike? You want to sit down and munch a Clif bar? Keen to relive past glories at the top of your lungs? Do it before you get to the walk-in, or after you have walked in and are out of sight and earshot of prying eyes and ears. And for god's sake, don't play music for everyone to hear while you are riding; not everyone likes Nickelback.
LAW 4: You aren't Racing Today (turn off Strava)
Your ego can rest for a day if you are riding a trail that is best kept under wraps. If you must document how awesome you are, then make that ride private. You can still brag to your friends later. I'm sure they can't wait for a reminder about how incredible you are. And for those making Strava segments on secret trails... Seriously. What the fuck are you thinking?
LAW 5: Don't Uncover Entrances. Like a Dick.
Maybe Joe Shredder doesn't understand the situation, maybe he feels entitled to roll into every trail he finds. He's a bid deal after all. Joe's as wrong as Trump declaring he won the last election. The best way to conceal a downhill trail is with an uphill entrance. Don't cut your own line because you are too lazy to climb.
LAW 6: Watch The Weather
If the monsoon is here, skip the fall line loamer and ride something that can take a punch. Plush natural trails become ugly trenches if you are locking it up while following Noah down the line. Often the intensity of the rain, as in how much is falling per hour, is more important than the total depth of precip. It's the deluge that destroys the trail, not two days of Scotch mist do pay attention. Unless of course you prefer every trail to be like the blown out and characterless main shuttle line that everyone rides, that is. But if that's the case, here are the directions to Ned's.
If you need to get out on a rainy day, put on some suitable apparel and go for a hike on the same trails you usually ride. Boots are helpful to scrape open drains, but a sturdy stick will work as well. Nobody likes to take a day off, but nobody likes it when loamers become creek beds either.
LAW 7: Don't Build a new Entrance
There's a trail near me that's a poorly kept secret. Originally it was concealed, but it's become too popular. It's a fast and easy trail that's fun for almost every rider and it's the sort of trail that's likely to get us in trouble. Someone thought they would help the trail builder out and they dug in a loam entrance, so poor dears like themselves don't need to pick up their bikes for 30 seconds. This one is mind-boggling to me. You like the trail? Great. And you want to make sure the ranger discovers it and closes it tomorrow? That's unconventional logic.
LAW 8: Don't Fuck with the Trail
If you didn't build the trail, but you'd like to help out or make some changes, ask the builder. A tiny percentage of mountain bikers does the vast majority of the building and maintenance of the trails we ride. Without them there wouldn't be mountain bike trails, so show a little respect. Leave a note with an email address or ask around to find out who the builder is, and let them decide if what you are proposing fits in with their masterplan. And don't cut lines with your bike. If you figure out a way to double up a section, that's fair play. If you figure out that cutting in front of that tree makes the corner shorter, that's a shitty move.
LAW 9: Be Inconspicuous
This may come as a shock, but occasionally the Loam Ranger likes to ride some loam. There are also times when he aborts that plan and chooses something more official, because there is a group of people he doesn't know near the entrance of his favourite trail and he realizes bringing it to their attention may jeopardize said beloved trail. They may be the nicest people in the world, and concealing the existence of the trail may still be a wise and just course of action. The Loam Ranger knows: when the rider is ready, the trail will appear. Making a bunch of noise at entrances or exits is also discouraged.
LAW 10: Don't make your Favourite Loamer Go Viral
Not long ago, some possibly well-meaning arsehole, shot GoPro of one of the Loam Ranger's favourite trails and then uploaded it to YouTube. And then posted directions to the concealed entrance of the trail in the description. The trail is now slated for destruction. Well done you 4-stomached mouth breather. Happy now?
If you absolutely must nail down something for TikTok, Instagram, or Myspace, don't show entrances or exits and take a moment to think about how to conceal landmarks that would reveal the location. In other words, use your brain.
LAW 11: Be careful about Exits
Exits are often what gets stealth lines destroyed, overused or covered over. If you come maching out like you've just roped your first calf, somebody just might notice. Stop before the end of the trail and have a listen to see if anyone is around. And just like trailheads, cover up those exits if that makes sense.
LAW 12: Be part of the Solution
There are many ways to do this. Somebody has uncovered the entrance to your favourite secret by dragging their brakes over the coverage? Don't high 5 buddy and roll in. Stash your bike and spend 5 minutes replacing the camouflage. If you are in the forest, grab some big branches as a first line and then spread some smaller leaf litter around to make it look natural. If someone is jawing off about a secret or posting on the web, call them out. If your riding partner suggests riding some buttery line when the weather is nasty, steer him or her in another direction.*
*See also LAW 1: Don't be a Bro
LAW 13: DON'T GIVE DIRECTIONS
This rule used to be well known in some parts. It doesn't mean you can't show worthy comrades the trail, it means you should just take them there when the time is right.
That means don't give directions to unsanctioned lines in person, and particularly not on the web. Don't draw a map or give GPS coordinates. Again, don't make new segments on Strava and always keep your sensitive rides private. Those who hate mountain bikers (hi there!) read mountain bike forums and web sites to get ammo to use against us. Don't fuel their fire. If you have a worthy riding buddy, who can keep a secret, bring them along. If you don't want to ride with them, why would you want to let them in on your secret? Think of it as your teenager having a party at your house; if he talks to a few friends in person, the information is likely to spread organically. If it's posted on Snapchat, it could go exponential and what's left of your house will be slated for demolition.
LAW 14: Don't do it for Me, Do it for You
Remember when your Mother said, "this is for your own good!" And then she stuffed a bar of soap in your mouth because you called a girl in your class a stinky beaver? Well, this isn't like that. This really is for your own good.
Climbing Mount Everest used to be the province of the world's best mountaineers. Now everyone with 100 grand and a stair master can pave their way to the top. The place is becoming a garbage dump and sherpas steal from each other to ensure their party makes it to the summit, and therefore tips their guides accordingly. One of the most sacred places on earth has been degraded by bored granola-munching trustafarians looking for a challenge, and it will never be the same.
Trails built off the grid often can't survive a lot of traffic, both because the wear and tear is often too much for a lone builder, because they are sometimes built in steep terrain, and because traffic alerts authorities to trail locations. If you have a few unsanctioned lines that light your fire, don't light the match that could burn them down.
The Loam Ranger doesn't want your approval, he just longs for good trail etiquette, and some perfect corners.
Note – the original 10 Laws of Loam was published on June 17th, 2014.
---
We may not always agree with the the Ranger, and particularly his abrasive approach, but sometimes we pick up what's he's putting down.