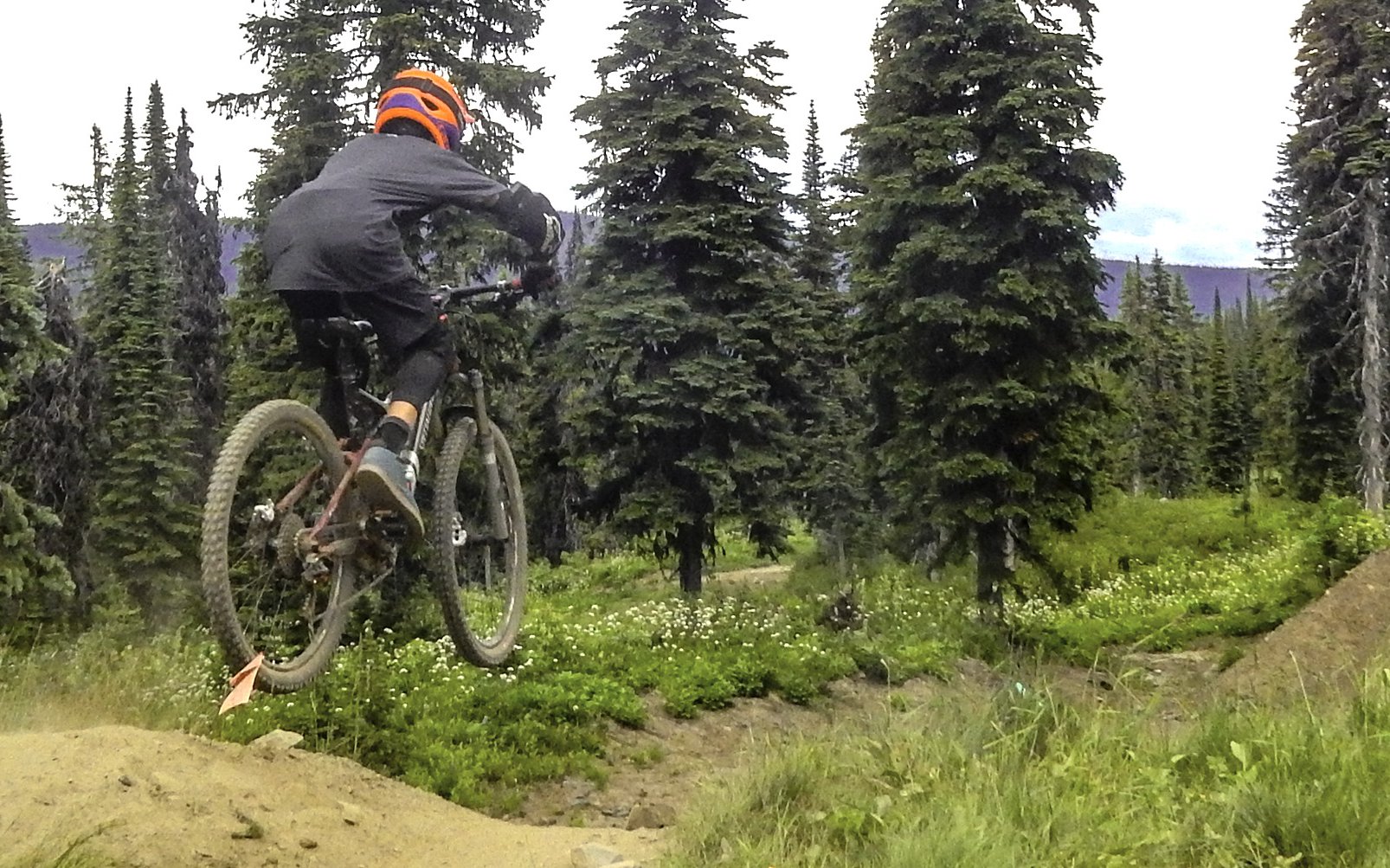 Luca Goes to Silverstar
A 12-yr old Boy's First Bike Park Day
My son's MTB upbringing might be seen as one of neglect; a failure to provide the necessities of fat-tired life. While he's always had a bike, we haven't spent much time pushing him to ride. He plays soccer and basketball and he even won his school's athletic award this year, but his exposure to trails has been somewhat limited.
Part of the blame goes to weekends filled with skiing and various games and practices and part goes to his parents who wanted to do their own rides on occasion. Add the intimidating difficulty of the North Shore, both up and down, and you have a perfect recipe for an impoverished mtb childhood.
One of my industry buddies just sorted a new bike for his son who is 6 or 7 years old. It's an extra small carbon-framed top of the line machine with 170mm of rear travel, carbon wheels and a group that would make a pro rider drool. My son is riding a 26" wheeled 10-year-old hand-me-down from his mum. It's a solid bike to be sure but considering the standard, it's a bit tragic. Each to his own, but even if I could afford to buy my kid the bike of his dreams at 12, I'm inclined to see him pay his dues and learn to appreciate what he has. That and I'm mostly Scottish.
Luca is pretty keen to ride, when the weather is good and he's not wiped out from a practice of some sort that is, but he's ridden virtually nowhere aside from Mount Fromme on the North Shore. Many of my friends summer in Whistler with their kids and that means these lucky younglings have grown up in the bike park. They went to camps, got expert instruction, and shredded thousands and thousands of vert with packs of like-minded groms every summer.
The results are clear; nothing teaches a kid how to handle a bike better or faster than amazing terrain accessed by lift. These wee gaffers* shred like nobody's business but Luca has spent his summers without a bike park close at hand. Before this past Monday poor Luca had never set foot in a lift-accessed bike park. When a window opened for us to hit the excellent trails at Silverstar, I pretty much pushed him into the truck.
*One of these 'kids,' Ben Wallace, just got 11th in the junior men's category at the Val di Sole World Cup.
Silverstar used to be a yearly stop for NSMB.com when we were running AIRprentice, but I haven't been back since we decided to give the comp a rest in 2012. This is a travesty because it is one of my absolute favourite places to ride. To be sure it's no Whistler, but there are many upsides to that. No lift lines, amazing conditions, and some inventive and diverse trail building. Silverstar is one of the few places I've visited where top riders lap blue trails because they are so much fun. It was the perfect place for Luca to get his first experience on the lifts.

We pulled up on a Monday just before opening and there were 9 cars(!) already there. Luca can be a little risk averse so I had a look at the trail map to choose an appropriate start. Many of my favourite trails, Double Dog, World Cup and Rock Star seemed like poor ways to start but a couple of others I've enjoyed, Shazam and Super Star, seemed just right.
Luca weighs about 86 lbs so I wondered how he would do loading his bike onto Silver Star's 4-bike tray carrier. The first time was a bit of a struggle but after that he did just fine, confidently pushing his bike into place.
My wife and I made Luca the meat in our sandwich, one of us riding in front and the other behind alternately like over-protective parents. Neither of us were keen on spending the afternoon in the Vernon ER and Luca's inexperience had us a little nervous. Soon after starting, he nose-wheelied a long table top inadvertently and thought it was the best thing ever, amplifying our parental anxiety.
The North Shore over-educates riders for some trail conditions and glosses over others. Gaps, tablestops and berms are in very short supply, while steeps and tech-gnar are plentiful. Speed is also hard to come by and braking bumps are almost never seen. Luca started the day with very little experience in the air, but I was confident we could change that, considering the 400 jumps (and more than 800 berms) punctuating Siverstar's 60 km/ 37 miles of trail.

Berm education came first. To begin with Luca was entering banked corners a little late and low and not angling his bike adequately. When I pointed this out to my son he was certain he was doing it correctly and if anything was wrong it was my power of observation. Despite his contrary nature he seemed to be listening and he started linking sections better and carrying more speed.
I'm not much of a jump instructor but it seemed like seeing me make some trannies was enough to get him to figure it out and he was revelling in his time spent off the ground.

I pointed us toward Bugaboos Bakery Cafe for lunch and it was, of course, one of Luca's favourite parts of the day. The nutella croissant was, unsurprisingly, a big hit.
At Cristina's urging we avoided Blast Off on our first run down to the lift in the morning so I was keen to hit it after our snack. Berms worthy of an Olympic bobsled run snake through the trees, speed controlled by occasional grade reversals, this is one of the best trails on the hill. This could have killed Luca's mojo earlier in the day (my wife, as usual, was correct) but with a full belly and a morning of experience our lad was all smiles.
After a refresh on Super Star it was time to drop into our first black trail. There is a mandatory jump over a rock garden at the entrance to a trio of the most difficult trails but we snuck around this since I knew World Cup is mainly tech singletrack rather than big doubles. When things got steeper and trickier Luca did fine and soon we arrived at the famous wall rides. The first wall requires heaps of speed and it's pretty scary but I figured Luca and Cristina were up for the second one.
In fact they were both keen to run at it multiple times for my camera and came out smiling. These unique features are so much fun they'll keep you lapping World Cup for hours and riding the second one was a big confidence boost for Luca.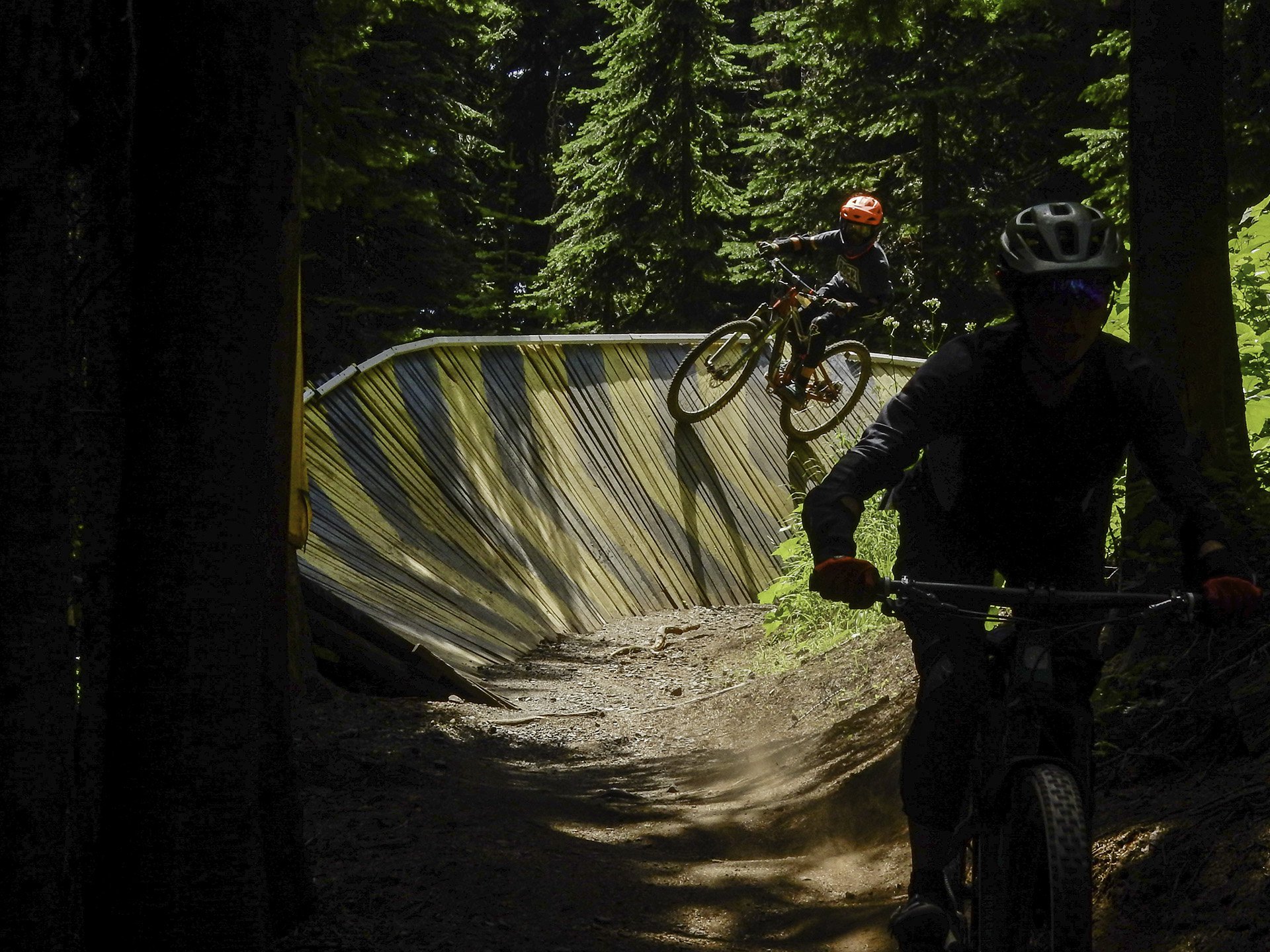 Jedi Mind Trick was a new trail to me and I knew nothing about it but soon I was wishing we had tried it earlier. It's a little like parts of Whistler's Crank It Up, but with more jumps and enough larger ones to foster progression. When I told Silverstar trail guru and Bike Park Manager Cameron Sorenson how much Luca liked the trail he nailed it with his reply; "Ahhh! Jedi. Every kid's sandbox. Who doesn't want to learn to fly?"
Jedi became our favourite trail and Luca got faster and more confident with every run. And he kept saying to me, "wasn't that sooo fun!" At the bottom Luca was always in a big hurry to load the lift to do it all over again.
I was thinking we'd ride the park from 10:00 until about 3:00 but, despite sore fingers and wrists Luca was having too much fun to stop. Unfortunately, as is often the case, storm clouds rolled in and around 4:00 we were notified that there was a storm watch. At the first sign of lightning the lifts are shut down and we rode our last chair at 4:20. Pro tip: bring some warm clothes if you ride Silverstar because the temp can drop precipitously when the weather rolls in.
We strolled through the village with big smiles on our faces. Hopeful the MTB child welfare agents will take me off their list now that Luca has (finally) had his finally first bike park day. He kept saying, "wasn't that the best day ever?" Followed shortly by, "when can we come back?"

It was enough to make me stop feeling guilty for being a bad MTB dad. Thanks Silverstar!
---
Silverstar has been voted the #2 bike park in the world (behind Whistler of course) and it's easy to see why. 
Silverstar Bike Park Facts
Chair lifts: 1 High Speed Six Person Chair (holds four bikes in roll on racks per chair); 7.5 min ride time
Number of Trails/Runs:  50+ km of downhill trails, ranging from green (easy) to double black (expert only)
Degree of Difficulty: 15% beginner, 40% intermediate, 45% Advanced
800 + berms
400+ jumps
1600 feet of vertical
More than 30 km of new style XC trails located around the village and at the top of the hill
If you are planning a riding trip in B.C. you should add it to your list. Click here to learn more about the Silverstar Bike Park.